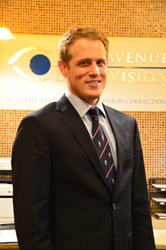 Manhattan, New York (PRWEB) July 22, 2014
Craig J. Moskowitz, MD, has been recognized by his peers in Super Doctors as one of New York City's Rising Star doctors for his work in surgical ophthalmology, located in Manhattan.
Fifth Avenue Eye Care & Surgery's, Dr. Craig J. Moskowitz has been awarded the title of one of the Rising Stars of doctors in New York City for 2013. Dr. Moskowitz practices cornea care, cataract surgery, and laser vision correction in Manhattan. The title was awarded by the publication, Super Doctors, which asks physicians to nominate one or more colleagues (excluding themselves) when posed with the question "If you needed medical care in one of the following specialties, which doctor would you choose?" Candidates were evaluated on ten areas: less than ten years experience, hospital appointments, fellowships, professional activities, leadership positions, academic achievements/ positions, board certifications, publications and presentations, honors and awards, as well as any other outstanding achievements. The final award is given to the top 2.5% of physicians in the respective state or region.
"I'm extremely grateful to be thought so highly of by my peers and the medical community," said Dr. Moskowitz. "To be considered one of the best young eye surgeons in Manhattan means the world to me and really validates what we do here at Fifth Avenue Eye Care & Surgery. I intend to work even harder to help the vision of my patients and the vision of New York City."
About Dr. Craig J. Moskowitz: Dr. Craig J. Moskowitz is a board-certified ophthalmologist specializing in cataract, cornea, and refractive surgery in Manhattan. Dr. Moskowitz attended McGill University for his residency before taking on further specialized training in cornea and refractive surgery at The Ohio State University. Before Joining Fifth Avenue Eye Care & Surgery, he trained at the world-renowned Agarwal Eye Institute for advanced cataract and LASIK techniques. He has and continues to lead medical mission trips to underserved areas including, St. Vincent, Grenadine Islands, and India.