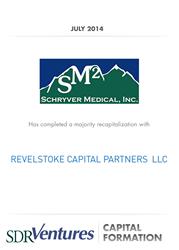 SDR did a remarkable job finding a company that shared our vision for growth and strategic goals.
Greenwood Village, CO (PRWEB) July 22, 2014
SDR Ventures, a Colorado-based investment banking firm, is pleased to announce that Schryver Medical Sales & Marketing, LLC ("Schryver Medical" or the "Company") completed a majority recapitalization with a group of Investors led by Revelstoke Capital Partners, LLC ("Revelstoke"). SDR Ventures served as advisor to Schryver Medical throughout the transaction process.
Schryver Medical, based in Denver, CO, provides mobile imaging, laboratory, oxygen and respiratory therapy, and medical equipment rental services to the long term care market, hospitals, assisted-living centers, and homecare patients. The Company operates in Colorado, Arizona, California, Idaho, Nebraska, New Mexico, Oregon, South Dakota, Utah, Washington, and Wyoming.
Schryver Medical has built a trustworthy reputation by providing value-added services and partnering with its customers. The company has experienced steady growth, and only recently expanded its services to California.
"We are excited to be partnering with a successful firm like Revelstoke," said Mark Schryver, CEO and majority shareholder of Schryver Medical. "SDR did a remarkable job finding a company that shared our vision for growth and strategic goals. We appreciate the hard work and dedication the team at SDR has put into this transaction."
Revelstoke is a private equity firm focused on building industry-leading companies. Its managing partners have over six decades of combined private equity investing and capital formation experience having completed over 100 platform and add-on acquisitions, representing over $5 billion of total enterprise value.
"Mark and the team at Schryver are the type of management group we strive to partner with," said Mark King, founding partner of Revelstoke, "we look forward to continuing to build upon the legacy Schryver has built."
Chris Bouck, Principal and founding partner of SDR Ventures, stated "This partnership will allow Schryver to capitalize on its expansion into California and provide additional opportunities for growth. We foresee a great relationship between these two companies and are pleased to have been part of this transaction."
About SDR Ventures
SDR Ventures is a boutique investment bank serving privately held business owners of companies with values up to $300 million. Operating beyond the confines of a traditional investment bank, SDR is reinventing the way business owners approach the market, offering transaction advisory, capital formation, strategic advisory and performance exchange services. Registered representatives of SDR Ventures offer securities through GVC Capital LLC, a FINRA member securities broker-dealer.
###