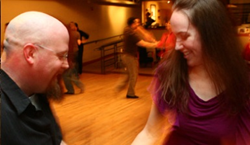 I am thrilled to own such a fascinating enterprise where people can pursue their passions.
Redmond, WA (PRWEB) July 23, 2014
Years ago, William Hutchison planned on starting his own business, but when he couldn't find an opportunity that motivated him, he let the dream fade away. Now, Hutchison's entrepreneurial spirit has returned, thanks to a beloved pastime: dance.
"I have been a faithful student at the DanceWorks Studio for nearly 10 years and have thoroughly enjoyed the experience," Hutchison said. "I enjoyed myself so much that I jumped at the opportunity to purchase the business."
DanceWorks Studio offers high-quality partner dance instruction in a welcome, non-competitive environment. The studio offers courses for beginners, as well as private instruction, series classes and wedding dance lessons.
"I am thrilled to own such a fascinating enterprise where people can pursue their passions," stated Hutchison, who has more than 30 years of professional experience in the computer software industry. "The best thing about being a business owner is to see the excitement on the faces of staff and students over various initiatives, such as a new type of class, a special workshop or a visiting instructor."
While searching for a way to finance his business purchase, a consultant Hutchison hired to perform the business valuation recommended Guidant Financial, a business financing firm known for their 401(k) rollover services. With Guidant's help, Hutchison was able to roll funds from his retirement account to fund the purchase, without triggering a tax penalty.
"To me, the reassuring nature of the exchange was the most assuring aspect of [Guidant's] process," Hutchison confirmed. "Many of my questions were anticipated and addressed. This markedly increased my comfort level with the entire endeavor."
When he's not busy running the business, Hutchison still enjoys participating in social dance, his favorite varieties being west coast swing, tango and waltz. Otherwise, he can be found reading, riding his bike or attending the symphony and opera.
DanceWorks Studio, located at 16641 Redmond Way, is open now. To learn more about their dance lessons or sign up for a class, visit danceworksstudio.com or call 425-869-7595.
###
About DanceWorks Studio
Since 2001, DanceWorks Studio has remained committed to providing its students with the highest quality partner dance instruction available, all in a warm and supportive environment. With its top-notch customer service and its commitment to teaching a variety of dance styles, DanceWorks puts its students first at all times. All instructors are highly-trained professionals who focus on finding the right way to communicate with each student. Whether you want a place to socialize, exercise, express yourself, challenge yourself or learn a lifelong skill, DanceWorks Studio provides it all. Learn more at danceworksstudio.com.
About Guidant Financial
Guidant Financial helps people create the life they want through innovative small business financing. They are the premier provider of rollovers for business start-ups (ROBS). Guidant's services allow people from all walks of life the freedom to purchase small businesses and franchises using their retirement funds without taking a taxable distribution or getting a loan, in addition to offering traditional funding options such as SBA loans, portfolio loans and unsecured credit. Visit Guidant on the Web at guidantfinancial.com.