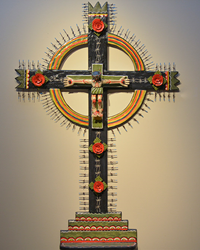 El arte me salvo la vida, he says. Art Saved his life.Nicholas Herrera
Santa Fe, New Mexico (PRWEB) July 23, 2014
NICHOLAS HERRERA: Modern Santero is a solo exhibition of contemporary Spanish art at EVOKE Contemporary opening on July 25th, 5-7pm through August 25, 2014.
When Nicholas Herrera was a boy he told his second grade teacher that he wanted to be a bank robber. When he was a little older he loved "Playing Chicken" with his cousins and sneaking down to the river to watch the hippie girls swimming nude. He also loved to make art, in family's tradition. But school was always hard. Nick found reading difficult, he wasn't allowed to speak Spanish and he often got in trouble. When he was thirteen he started smoking marijuana, and in his later teens he began to drink and party and drive fast cars.
Everything changed the day Nicholas, who was driving while drunk, had a head-on crash with a truck. He lay in a coma for weeks, and his doctors thought he would die. But somehow he survived, and he hasn't touched alcohol or drugs since. "El arte me salvo la vida," he says. Art Saved his life.
Elisa Amado, High Riders, Saints and Death Cars, A Life Saved by Art
Nicholas will share his unvarnished stories about his wild early years, and how he left his wild life behind. He has created art about his own experiences-being tempted by drugs and alcohol, the accident, being in trouble with the police-but also about 9/11, the Gulf War and environmental issues. And in his family's tradition, he continues to make paintings and sculptures of saints and scenes from the Bible, but with his own modern twist. He has become one of the most important folk artists in the United States. His art is in the permanent collections of over 30 museums, including the Smithsonian American Art Museum and National Museum of American History, the Museum of American Folk Art in New York City, and the Autry National Center in Los Angeles. His work has been exhibited in cities across the United States, as well as in Paris, Rome and Berlin. Nicholas Herrera lives in El Rito, New Mexico.
View this interview with Nicholas Herrera in New Mexico courtesy of the Smithsonian Museum.
About EVOKE Contemporary:
EVOKE Contemporary showcases provocative and compelling representational contemporary art of international acclaim. The gallery is known for its strong focus on figuration with wide diversity ranging from hyperrealism to abstract expressionism. All events open on the Last Friday of each month along with the celebrated Last Friday Art Walks in the Railyard Arts District.
EVOKE Contemporary is located at 550 South Guadalupe Street, Santa Fe, New Mexico 87501. Telephone 505.995.9902. For more information, visit the EVOKE Contemporary website at http://www.evokecontemporary.com.