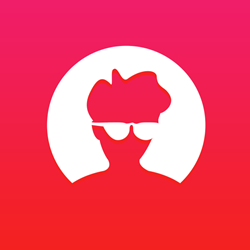 New York, NY (PRWEB) July 24, 2014
Developed by AI Athena, the StarSnap Celebrity Finder app for iPhone enables fans to find and connect with their favorite actors, musicians and athletes in whole new way.
Utilizing a highly advanced facial recognition technology, StarSnap is perfect for that friend who is always talking about their favorite films, but is never able to remember who the lead actor is. With StarSnap, users can snap a picture from virtually anywhere – including computers and tablets, advertisements, or even TV screens – and immediately pull up a celeb's information. StarSnap users can even take a "selfie" and upload it to the app to see which celebrity they resemble most.
Personalized newsfeeds keep users up to date with their favorite stars and trending celebrities with access to in-depth bios, photos, recent film work and much more! Plus, the app's exclusive social media aggregator allows users to find out what their favorite celebs are saying on multiple social platforms with one-click access to view all of their updates in once place.
"We developed StarSnap as a fun and easy way for people to discover more about their favorite celebrities," says Alexandra Aleskovsky, Lead Development Advisor. "With StarSnap, users can get all of their celeb news straight from the celebrities themselves in one place!"
Features of the StarSnap Celebrity Finder app include:

Searchable profiles for thousands of actors, actresses, musicians, and athletes.
Instant celebrity name recall with facial recognition software.
Access to the latest celeb news, bios, photos, videos, and more!
Personalized newsfeeds for tracking trending celebrities worldwide.
Complete social media monitoring digests updates across multiple social channels (Facebook, Twitter, Instragram, etc.) into a centralized feed.
StarSnap is available now for free on the iTunes App Store and coming soon to Android.
About AI Athena:
AI Athena LLC is an entertainment company and mobile app publisher. The company's mobile app, StarSnap Celebrity Finder, helps fans to connect with their favorite celebrities, through face recognition and consolidated social media feeds. For more information visit starsnap.aiathena.com.