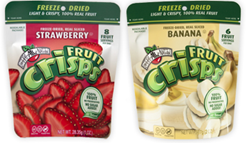 Made with 100% fruit and containing no additives, preservatives or added sugar.
Rochester, NY (PRWEB) July 22, 2014
If you like freeze-dried fruit snacks, you won't want to miss out on the newest addition to the Brothers-All-Natural line of freeze-dried Fruit Crisps. Their popular Banana Fruit Crisps and Strawberry Fruit Crisps, previously packaged as single servings, are now also available in larger sizes that yield six full servings of fruit in the Strawberry, and eight full servings of fruit in the Banana. In addition to being larger in size, these pouches are resealable to keep the fruit crispy when stored for extended snacking.
The Strawberry and Banana Fruit Crisps were two of the six Brothers-All-Natural products to recently receive the Non-GMO Project verification approval, along with their newest addition to the freeze-dried snack line, Fruit Clusters.™ Be sure to check out these amazing fruit snacks and the rest of the Brothers-All-Natural products at http://www.BrothersAllNatural.com.
Brothers-All-Natural is the market leader in freeze-dried fruit snacks, producing their award winning Fruit Crisps. Made with 100% fruit and containing no additives, preservatives or added sugar, Brothers-All-Natural Fruit Crisps have become the Healthy Snack of choice for millions of health-conscious consumers.
About Brothers International Food Corporation
Brothers International Food Corporation is a privately owned food and beverage company based in Rochester, New York with offices in North Carolina, China and Ecuador. The company was founded in 2001 by brothers Matt and Travis Betters, whose family was involved in the processed fruit and vegetable industry for more than 65 years. In addition to supplying top-quality fruit and fruit juice concentrates to a number of Fortune 100 food companies, Brothers International is the parent company of Brothers-All-Natural, producing Fruit Crisps and Fruit Clusters, all-natural 100% fruit snacks, Harvester Farms freeze-dried fruits and vegetables for long term food storage, as well as Fruit & Oats, and Lost Vineyards, importing low-cost wines from little-known vineyards in Europe and South America.