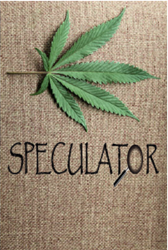 "your only source for quotes, financials, insider data, charts and news for all publicly traded companies"
Las Vegas, Nevada (PRWEB) July 29, 2014
The floodgates have opened with companies wanting to participate in many different ways, from pharmaceuticals, to growing, supplying, vending machines, marketing, and all other imaginable services related to this new industry.
Marijuana Speculator is the only investment service giving members access to the more than 240 publicly traded companies in this relatively new and exciting investment sector.
Every investor needs quality information to decide which, if any, of these companies to invest.
Dudley Baker said, "Wth our recent agreement with Quotemedia, Inc., the best financial content available is provided to members with access to a listing of all companies, symbols, trading volume, market capitalization and all sortable by members at the touch of a button."
"Members can also quickly access charts, news, insider trading, option chains, financials (balance sheets, income statements and cash flow) and more on each company."
No stock recommendations will be made by the staff at http://MarijuanaSpeculator.com; however, articles may be written and companies showcased to reflect the opportunities available within the sector.
Rarely does a new investment sector appear virtually out of the blue, but this is what happened at the beginning of January 2014 as legalization of recreational marijuana in Colorado became a reality giving investors a wealth of opportunities.
Perhaps the current market for these companies in the marijuana/cannabis sector can be likened to the early days of the high tech era.
Remember the 1990's and the historic rise in share prices finally topping out in early 2000? Could be those investors now interested in this new and evolving market for marijuana stocks are too young to remember what was called 'the internet bubble'. That's okay, as they will get many chances to create wealth in the coming months and years by purchasing shares in this new investment sector.
The observation of some investors is that many companies in the marijuana business with shares trading are very small, under capitalized, trading for pennies or less and little or no reporting required. This honestly is scary as hell and no doubt some companies will not survive as this is truly like the wild, wild, west.
Caution and fear must be a consideration of all investors, and due diligence must be performed by each investor and/or consulting with a financial advisor before entering into any transactions of buying or selling of shares.
However, within this new investment sector of marijuana/cannabis companies, there will be many winners - big winners that will make those investors with good insight and discipline and diversification fortunes in the coming years.
For those investors interested in learning more about the services offered by MarijuanaSpeculator.com and the short-term Introductory Offer visit, http://MarijuanaSpeculator.com/Subscribers/signup.