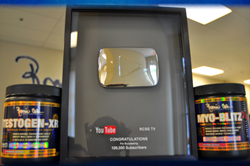 I'm so excited about these awards that I am giving away a FULL YEAR supply of my products!
Boynton Beach, Florida (PRWEB) July 23, 2014
8X Mr. Olympia Ronnie Coleman is no stranger to winning awards except that he is used to bringing home the hardware on the bodybuilding stage. Now, Mr. Olympia is beginning to take home awards in the business world as well. Just recently, Coleman received the Silver Play Button award from YouTube and was nominated for the New Brand of The Year award by BodyBuilding.com.
Mr. Coleman was awarded the Silver Play Button from YouTube for his supplement company's channel surpassing 100K subscribers. Mr. Coleman's legendary training videos were already a YouTube sensation among the fans of the fitness industry, but now his channel includes updates from Mr. Coleman's life beyond the gym as the owner of Ronnie Coleman Signature Series™. His channel also provides comedy, motivation, product information as well as training advice. Need some motivation or tips? Check it out https://www.youtube.com/user/RCSSTV
"Receiving the Silver Play Button from YouTube means a lot to me and my company. I know the fans loved my old training videos but to see them now just as interested in what I'm doing with my company is a great feeling. It means all of the hard work is paying off and we are truly reaching people by providing them with more than just supplements. I have to thank the fans and subscribers for all of their support and I promise to constantly add new and exciting content to my channel. YEAH BUDDY!" (Yeah Buddy is a catch phrase that Mr. Coleman made famous during his training videos)
Right on the heels of being awarded the Silver Play Button, Ronnie Coleman Signature Series™ has also been nominated for New Brand of The Year on BodyBuilding.com. Nominations for this award were based strictly on sales numbers so essentially they were picked by the consumer each time they made a purchase. Mr. Coleman is extremely excited about this nomination. "Being nominated for New Brand of The Year from the industry's largest web retailer is a huge honor. The best part is that it's based strictly off of sales numbers which means the customers are purchasing and re-purchasing my products. When I started this company all I wanted to do was provide my fans with products that worked and that they could trust. This nomination tells me that I am accomplishing that goal!"
Mr. Coleman is so excited about this nomination that he is going to be giving away a FULL YEAR supply of his supplements to 5 lucky fans who give him their vote of confidence. For real, check out the offer here http://sdqk.me/ARSoeZuj
Voting for the BodyBuilding.com awards is live from July 21st – August 24th. If you are a Big Ron fan and want to support him take a minute and vote for Ronnie Coleman Signature Series™ here http://www.bodybuilding.com/fun/supplement-awards.html