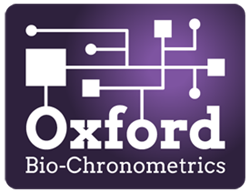 We can also determine whether ads are being clicked on by bots or humans, providing assurance to online advertisers that their budgets are not being wasted on bots and are actually being seen by humans.
Luxembourg (PRWEB) July 22, 2014
Oxford BioChronometrics (http://www.oxford-biochron.com), spun out from the University of Oxford's Isis Software Incubator, has developed software which allows businesses to distinguish between real human users and spam bot page views, which it says make up an astonishing 96.5 percent of attempted logins on websites, including comments sections, user forums and ecommerce stores.
Isis Innovation, the University of Oxford's commercialization company, announced that the company has raised sufficient funds from private investors to launch its first product, NoMoreCaptchas.
Adrian Neal, founder and CEO at Oxford BioChronometrics, said: "Using markers that distinguish the behavior of humans from spam bots, our software reveals who or what is knocking on the door of any site or app. We found that at least 96.5% of these attempts to login are by bots, not human users.
"We can also determine whether ads are being clicked on by bots or humans, providing assurance to online advertisers that their budgets are not being wasted on bots and are actually being seen by humans. We can detect human bots and bot farms, which is a hugely important step for firms wanting to manage their online advertising cleverly and effectively."
Oxford BioChronometrics' software captures user inputs and creates a signature that is more individual than a fingerprint. These signatures cannot be replicated by human beings or by bots and create what the company calls a user's electronically Defined Natural Attributes, or e-DNA.
"Traditional authentication tools such as passwords, PINs, and one- time-codes are cumbersome and can still be hijacked by viruses and hackers," said Neal. "As banks and merchants move away from desktop PC online banking and into mobile banking apps, our ability to authenticate users from one device to another becomes very important in ensuring safe online transactions and avoiding scams."
Tom Hockaday, managing director of Isis Innovation, said: "What this young company has accomplished with the support of our Isis Software Incubator is truly extraordinary and potentially game-changing for online commerce."
The NoMoreCaptchas software is already being used by hundreds of websites around the world. The company now plans to focus on providing a seamless user experience while working to eliminate the need for passwords all together.
The algorithms used were developed by Neal, software engineering master's graduate and cryptographics expert at the University of Oxford and his co-founders, also post-graduate researchers at the University.
In 2013 Oxford BioChronometrics was established as a venture within the Isis Software Incubator and the company won global funding platform TreveriMarket's first Annual Start-up Competition at ICT Spring Europe 2013. As the judges commented, "With its potential to truly revolutionize the way we do business on the Internet, Oxford BioChronometrics stood out as the clear winner."
About Oxford BioChronometrics
Oxford BioChronometrics provides digital fraud prevention and user authentication by analyzing human behavior to establish what it calls a user's Electronically Defined Natural Attributes, or e-DNA. From speeding up engagement by eliminating the need for Captcha codes and two-step verification to using the power of behavior to identify users without the need for passwords, the company is changing the face of the Internet by protecting users, companies and the digital content they share. For more information, visit http://www.oxford-biochron.com.
About Isis Innovation
Isis Innovation is the research and technology commercialization company of the University of Oxford. We provide access to technology from Oxford researchers through intellectual property licensing, spin-out company formation and material sales, and to academic expertise through Oxford University Consulting.
Isis is the highest university patent filer in the UK and is ranked 1st in the UK for university spin-outs, having created more than 100 new companies in 25 years. In the last financial year we completed 395 licenses and consulting agreements with clients in 21 countries. The Isis Enterprise innovation management consultancy works with university, government and industrial clients from offices around the world.
For updates on innovations from Oxford, follow Isis on LinkedIn and Twitter or subscribe at http://www.isis-innovation.com
About the Isis Software Incubator
The Isis Software Incubator is a key part the University of Oxford's entrepreneurial infrastructure, supporting young software ventures in the development of products or services and helping them trade before they receive investment. The incubator has been operating since late 2010 and launched an on-site incubation facility in mid-2011. It has taken in 29 ventures, of which 12 have incorporated, 8 have raised VC, angel and grant funding and 6 have graduated the program.
The incubator is based in Summertown, Oxford at the offices of Isis Innovation, the University's technology commercialization company. Companies accepted into its programs receive access to commercial mentoring, intellectual property advice, marketing and support for early operational expenditure.
Incubator companies work in a wide range of fields including energy usage analysis, text analytics, social media networks and data analysis. Contact incubator(at)isis(dot)ox(dot)ac(dot)uk
Notes for editors:
A bot is an automated program that runs over the Internet usually on behalf of another program and which can often maliciously simulates human activity. While some bots are helpful (search engine cataloging bots), many are not (spam generators, malware, click-fraud, etc).
Oxford BioChronometrics takes its name the way the technology analyses behavior for life signs (bio) measured over time (chronometric).