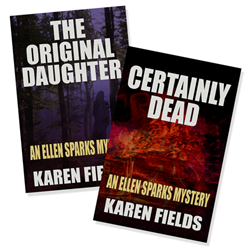 Move over V. I. Warshawski and Kinsey Millhone, there's a new girl in town!
San Diego, CA (PRWEB) July 23, 2014
As female murder-mystery heroines go, there are a few stereotypes that prevail. There is the lawyer or police officer that abandons a promising career for a life as a private investigator. Then there are the amateur sleuths who own small businesses such as bookstores, knitting shops and bakeries. Finally, there are the mature heroines such as Agatha Christie's Miss Marple and Peter Fisher's Jessica Fletcher who are iconic in their own right.
Enter Ellen Sparks—charming, understatedly elegant, and whip-smart. At 35 she's immersed in the business world, and as Director of Human Resources at a San Diego based biotech company, her life seems to leave little time for anything but work.
Ms. Sparks, however, isn't just another pretty performance plan. She's a keen student of human behavior, and she's got an amazing sense for what makes people tick—part of why she excels at her job. So when she winds up with the occasional dead body on her hands, Ellen morphs from the mild-mannered HR lady into a take-no-prisoners crime fighter.
An orphan at the start of the first novel, Ellen is a bit of a loner. But along the way, she acquires an extended family and finds that giving of herself can be as rewarding as putting the bad guys away. Read an Ellen Sparks novel and you'll find new appreciation for the cozy mystery genre. They are available from Amazon in both eBook and paperback formats.
For Book 1, The Original Daughter click here: http://bit.ly/1q4yEsr
For Book 2, Certainly Dead, click here: http://bit.ly/1r4TsQ9
About the Author: Karen Fields has spent over twenty years working in the human resource and employee development departments of large corporations. Presently, she is the owner of Learning-Dynamics, LLC, a consulting firm that provides training solutions for large and small businesses. http://www.learning-dynamics.com.