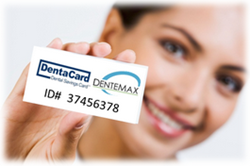 Search for local dentists and more importantly...view the actual discounted prices before joining.
(PRWEB) September 18, 2014
New discount dental plans website allows consumers to search by zip code to find dentists and see exact plan savings in their area prior to joining the plan. Consumers can also sign up and have an immediate ID# to use the plan same day.
With so many different discount dental plans out there choosing the right plan can be difficult. With most dental plan websites it is very difficult to see the exact plan savings and discounts in a particular zip code before joining the plan.
That is the exact reason DentaCard redesigned their website.
Search and compare thousands of dentists and their most popular procedures before purchasing a dental plan. DentaCard a discount dental plan powered by DenteMax recently redesigned their website with advanced features. The new features allow consumers to search for local dentists and more importantly view the actual discounted prices that you would pay as a plan member.
Most importantly this can all be done before purchasing the dental plan so that consumers know their exact savings. The updated website also allows consumers to download an immediate ID# which can be used that very same day at any participating DenteMax network dentist.
Dental discount plans are available to all uninsured and under insured individuals and families. The typical savings experienced when using these plans are 20-40%.
The DentaCard Discount Dental Plan powered by DenteMax is located inside one of the most prominent business centers in the state. Their corporate office at 5800 Landerbrook Dr. Suite 200, Mayfield Heights, Ohio, utilizes technology built here in the USA to bring you the most accurate information on your dental plan before you even purchase it.