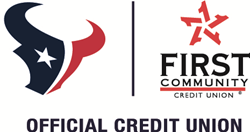 Houston, TX (PRWEB) July 22, 2014
First Community Credit Union, the Official Credit Union of the Houston Texans, has extended their partnership with Brian Cushing. The Houston Texans starting Linebacker will continue his role as spokesperson for the company through 2016. Cushing has played in the NFL since 2009 after being drafted from the University of Southern California as the Houston Texans first round pick. Since entering the league, Cushing has been voted NFL Defensive Rookie of the year, selected to the Pro Bowl and named the 2011 Team Most Valuable Player.
Cushing was FCCU's spokesperson last year and was part of their Award winning TV commercial, radio, and print ads as well their billboards and various other promotions. FCCU is already developing a new, dynamic 2014-2015 marketing campaign with Cushing as the creative centerpiece.
Cushing will continue his participation in FCCU's annual "Stars in the Classroom" Program. "Stars in the Classroom" awards 10 deserving teachers for going above and beyond in the classroom. The teachers are awarded football tickets, sideline passes and an autographed jersey. In addition, a $500 donation is made to their school district in their honor and Cushing or one of his teammates pays a visit to their classroom. The nominating student receives an autographed Houston Texans football. For details on how to nominate a teacher, go to texanschecking.com.
FCCU is the Official Credit Union of the Houston Texans and the exclusive provider of Texans Checking. With Texans Checking, fans get a customized Texans Debit Card and numerous chances to win autographed merchandise as well as exclusive trips and access to exclusive V.I.P. events.
In 1954, First Community Credit Union started as a credit union for employees of Spring Branch ISD and now reaches out to all residents and businesses in Harris, Ft. Bend and Montgomery Counties. With Brian Cushing on board, FCCU has seen significant growth, and in 2013, achieved a big milestone by reaching 100,000 members. For more information about the program and First Community Credit Union's First-Rate service, please visit texanschecking.com or FCCU.org.
First Community Credit Union, Official Credit Union of the Houston Texans and The Personal Choice of Brian Cushing