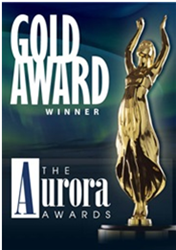 The writing, production, direction and editing of the video was done in-house by Direct Impact Media
Vancouver, BC (PRWEB) July 24, 2014
Direct Impact Media has recently been awarded with a 2014 Aurora Award for its production, "The GLENTEL Story". The video was produced by DI Media for its client, GLENTEL Inc., and depicts their corporate identity, along with chronicling their growth from a single forefront in British Columbia to a global mobile phone retailer with thousands of stores in 4 countries of the world. Winning an Aurora Award is one of the highest accolades in the media industry. "The GLENTEL Story" has previously won the 35th Annual Telly Award for the category of corporate image in June, 2014.
Since the writing, production, direction and editing of the video was done in-house by Direct Impact Media, the production used original footage and music score. It was shot in a variety of different locations, including Ontario, Quebec, British Columbia, Washington State, Connecticut, and Sydney, Australia. Direct Impact Media created extensive graphics to give the production a polished look in the final outcome.
As a result, the company was able to secure an Aurora Award for its in-house production. The Aurora Award is an international competition of films and videos with a focus on regional, commercial, special interest entertainment and corporate sponsored film and video productions. The organization aims to recognize excellence in film and video industries, thus, making this accolade a matter of great pride for DI Media.
Direct Impact Media's esteemed client, GLENTEL Inc., has expressed great delight for the success of "The GLENTEL Story". Apart from massive publicity, the awards have earned the corporation a positive image. GLENTEL, being the largest independent multi-carrier mobile phone retailer in Canada and Australia, operates two of the six National Premium Retailers for Verizon Wireless in the United States. Direct Impact Media has been working with the company for over 5 years, producing many video, multimedia, and event projects for them.
About Direct Impact Media
Direct Impact Media is a video, multimedia and event production company delivering seamlessly integrated events and creative powerful corporate video productions and presentation graphics.
Find out more about Direct Impact Media at http://www.directimpactmedia.ca