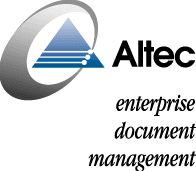 Laguna Hills, CA (PRWEB) July 22, 2014
Altec Products, Inc., a leader in enterprise document management and workflow solutions, announced today their Gold Sponsorship of Sage Summit 2014 held July 28 – 31 at Mandalay Bay Hotel and Casino in Las Vegas, Nevada. The largest educational event for Sage customers, Sage Summit draws thousands interested in taking advantage of the many opportunities to network with industry leaders, learn how to solve business problems and educate themselves on the latest enterprise resource planning (ERP) solutions, trends, capabilities and integrations.
Sage Summit 2014 is open to everyone interested in increasing workplace productivity. The conference will offer product sessions, demonstrations and labs, providing valuable tools and detailed information to foster growth in business. Sage customers will also share their own business stories, and this year—for the first time—the event will feature stirring talks by thought leaders and industry experts. A supporter of over six million businesses worldwide, Sage has carefully cataloged customers' feedback and will provide a unique setting where attendees can make use of the power of conversation to acquire best practices for various industries.
Altec is proud to be the endorsed document management solution provider for Sage 100 ERP, Sage 300 ERP and Sage 500 ERP. Sage ERP Document Management by Altec optimizes Sage ERP solutions to increase workplace efficiency and profitability. It eliminates a company's need to file documents in paper-heavy departments such as Accounts Payable and Human Resources, reducing time wasted and money spent, to create a productive organization functioning at full capacity. Businesses interested in shifting to a paperless system will have multiple opportunities to gain information from Altec: at a theater presentation on Going Paperless & Going Mobile, at a breakout session on Going Paperless and during live, personal document management demonstrations at Booth #1223.
Altec will bring a large team to the conference: Sales Directors, Sales Engineers, and employees from the Development, Professional Services, and Marketing Departments will be available to answer questions and give advice. Kevin Dudevoir, Director of Sales for Altec, states, "We are honored to support Sage as a Gold sponsor this year. Sage Summit cultivates an exceptional environment where attendees can learn how to drive business by utilizing their Sage ERP solution to its fullest potential. Altec is happy to listen to and contribute to that conversation."
To speak with document management experts and receive detailed demonstrations, visit Altec at Booth #1223.
Altec's Sessions
Go Paperless & Go Mobile with Sage ERP Document Management by Altec
(Session track: Business Performance in the Digital Age)
Tuesday, July 29 from 10:30am to 11:15am
Go Paperless with Document Management by Altec
(Session track: Industry Best Practices)
Wednesday, July 30 from 10:00am to 11:00am
To register for Sage Summit 2014, click here.
About Altec
Altec is a leading provider of Integrated Document Management (IDM) solutions to mid-market companies. For more than 25 years, Altec has provided a wide range of accounting-centric paper to paperless solutions including its flagship product, doc-link™, which enables companies to capture, archive, workflow and route structured and unstructured documents to customers, employees and vendors. Altec's comprehensive solutions include IDM, output management, MICR check disbursement and paper documents that serve more than 13,000 customers worldwide. Altec enjoys strong, collaborative partnerships with ERP solution providers like Sage Software to provide the most comprehensive, integrated enterprise document management solution. Altec delivers its IDM solutions through a global network of authorized partners in more than 60 countries throughout the Americas, EMEA and Asia Pacific. Visit Altec at http://www.altec-inc.com or call April Blankenship at 1-800-997-9921.
###
About Sage
Sage is a world-leading supplier of accounting and business management software to start-up, small, and midsized businesses. Our purpose is to help our customers run their businesses more effectively—helping them gain greater insight into their business activities and providing them with lasting benefits by automating their business processes. Our applications cover a wide range of business requirements, including accounting, customer relationship management, contact management, human resources, warehouse management, and specialized products for specific industries. Sage North America has more than 3.2 million customers with offices across the U.S. and Canada. Our corporate office is located in Irvine, California.