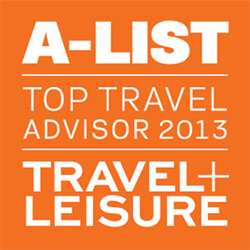 I am absolutely honored to receive this recognition from Travel + Leisure once again.
Missoula, MT (PRWEB) August 14, 2014
Adventure Life CEO and founder, Brian Morgan, has been named an A-List Travel Adviser for Galapagos travel yet again by Travel + Leisure magazine. This award is determined annually by the magazine's editors as they take a look at the best advisers in the industry. They review hundreds of applications to produce a highly distinguished selection of A-Listers. Travel + Leisure realizes the challenges of seeking trip advice from professionals with the exact expertise needed for a particular destination. Therefore, this A-List is compiled annually to give travelers a guide for finding the ideal adviser.
This distinction is a testament to the fact that Adventure Life's services are truly setting a precedence within the travel industry. "I am absolutely honored to receive this recognition from Travel + Leisure once again," said CEO and founder, Brian Morgan. "Our team feels like this is an accolade that reflects our competence and experience, and we all feel fortunate to be a part of a company offering such a high level of service."
The awards will be published in the September 2014 issue of Travel + Leisure magazine. This edition will be available on newsstands mid-August.
To explore the world with Adventure Life, visit http://www.adventure-life.com or call 800-344-6118.
About Adventure Life:
Adventure Life is a company of travelers with a passion for sharing the world with others. Our travel experience runs deep, from years volunteering in rural Africa and Central America, to research trips in Asia, studying in Europe, guiding in the Rockies, and just bouncing around every corner of the world. This deep experience is the reason behind our pioneering approach to travel and award winning itineraries. For nearly fifteen years we have been creating personal itineraries that immerse our travelers in the vibrant colors of a place, leaving both our guests and hosts enriched by the experience. From our beginnings as a Latin America specialist, we now offer private journeys, small group tours, and expedition voyages throughout the world. We pride ourselves on our intimate knowledge of our destinations and our dedication to sharing the world.
Media Contact:
Sublime Public Relations
Steve Snyders
steve(at)sublimepub(dot)com
406-728-4180