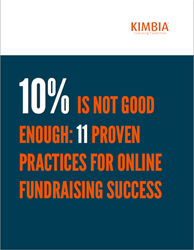 These organizations and others prove that it is possible for all nonprofits to break the 10% glass ceiling of online fundraising to better fund their missions.
Austin, Texas (PRWEB) July 22, 2014
If a nonprofit organization is raising 10% of their total revenue online they are doing well, right? Not. Although "10% is good" is a commonly held industry belief, organizations without a higher goal and better results are losing more than just revenue. They are missing out on acquiring and retaining the highest value donors – those who are acquired online and then give to and share the nonprofit's mission across many channels. To help nonprofits go beyond 10%, today Kimbia announces their free eBook: 10% is Not Good Enough: 11 Proven Practices for Online Fundraising Success.
Underscoring the need for a robust online fundraising program (web, mobile, social media, crowdfunding and peer-to-peer), a recent study reported that for the first time ever more Baby Boomers gave online than via direct mail in 2013. The same study reported that 43% of the total donations contributed to nonprofits by individuals come from baby boomers, making them the dominant source of individual donations.
"The glass ceiling has been cracked by some," said Dan Gillett, citing data from the Chronicle of Philanthropy's May 22, 2014 Online Fundraising Special Report. "The Cystic Fibrosis Foundation raised more than 27% of its donations online and AmeriCares generated 30% of all gifts of less than $10,000 online. Major donations are also now being made online. Two examples include the Museum of Arts, Boston, which received a $150,000 donation and Habitat for Humanity International, which received a $127,000 donation. These organizations and others prove that it is possible for all nonprofits to break the 10% glass ceiling of online fundraising to better fund their missions.
Capturing Kimbia's deep online fundraising expertise with proven practices and practical tips, the new eBook expertly guides organizations through strategy, planning and execution components. Highlights include:

Strategy: The importance of taking a digital first approach, how to fuse all fundraising initiatives (both online and offline) into an Omni-Channel Fundraising plan, and the reasons to combine content marketing and social media to engage supporters.
Fundraising Basics Updated for Online: How to migrate your supporters to online peer-to-peer fundraising, how to leverage your partners and how to prioritize calls-to-action.
Online-Specific Opportunities: Why and how to run a highly successful single-day crowdfunding event, how to make your site mobile-responsive and how to avoid donation form abandonment.
Copies of the eBook can be requested here.
About Kimbia
Our flexible, best-of-breed, online fundraising platform enables you to create a deeper donor relationship by leveraging the strengths of each channel and putting your donors at the center of all development activities. Ultimately this approach results in greater brand awareness, giving and lifelong loyalty. Kimbia is proud to support more than 5,000 customers to date, including the American Heart Association, Smithsonian Institution, YMCA of Metropolitan Dallas, Columbia University, Georgetown University, WGBH – Boston, KCSM – San Mateo, The Ragnar Relay Series, Beijing International Triathlon, Communities Foundation of Texas, Community Foundation for Greater New Haven and The Boston Foundation. For more information, visit http://www.kimbia.com.