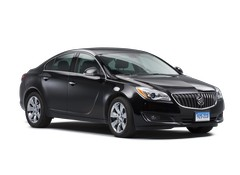 The Regal is a thoroughly developed and satisfying mid-sized sports sedan that's more reminiscent of a German sports car than the softly sprung luxo-barges that Buick was once known for
Yonkers, NY (PRWEB) July 22, 2014
The recently freshened Buick Regal and Volvo S60 are giving their sportier and more prestigious competitors from BMW and Mercedes-Benz serious competition in Consumer Reports latest tests.
Consumer Reports engineers found the Regal's performance, handling and easy infotainment system appealing. That helped the Regal beat the Volvo S60 in a head-to-head road test. Ultimately, the Regal wound up finishing just one point shy of the class-leading BMW 328i and tied the Mercedes-Benz C250 for second place in the organization's overall ratings of upscale sport sedans—while costing thousands less.
"The Regal is a thoroughly developed and satisfying mid-sized sports sedan that's more reminiscent of a German sports car than the softly sprung luxo-barges that Buick was once known for," said Jake Fisher, Consumer Reports' director of automotive testing.
Consumer Reports engineers found the Regal's revised 2.0-liter turbocharged four-cylinder engine makes the car quicker and more fuel-efficient than when it first came out. The turbo engine accelerates effortlessly, posting a 0-to-60-mph time of 7.4 seconds. The smooth-shifting six-speed automatic transmission is quick and responsive.
Ratings and road test reports for the Buick Regal and Volvo S60 are available at http://www.ConsumerReports.org. The reports, along with evaluations of the new Mercedes-Benz S550 ("Excellent" overall score), Audi A3 ("Very Good"), and Maserati Ghibli ("Very Good"), appear in the September issue of Consumer Reports, which goes on sale Thursday, July 31.
Consumer Reports measured the Regal's fuel economy at 24 mpg overall, which is mid-pack for the category. But unlike many turbocharged engines, the 2.0-liter turbocharged four-cylinder engine in the Regal doesn't require premium fuel. The Regal rides very well, with a trace of firmness at lower speeds. Handling is agile and tied down. On the track, the Regal was quite capable, snaking through Consumer Reports' avoidance maneuver at a commendable speed of 53.5 mph with plenty of grip.
Consumer Reports found the Volvo S60's new, 240-hp, 2.0-liter, turbocharged four-cylinder engine, matched with an eight-speed automatic transmission, is a marked improvement in drivability, fuel economy, and refinement over the previous five-cylinder engine. Power is generous and smooth, with a well-integrated turbo that makes the car very responsive and provides effortless power. Fuel economy is decent, at 25 mpg overall.
Testers found the S60's handling is fairly nimble and secure. The ride was so firm that it borders on being stiff. The S60's interior is well-finished, and reasonably quiet with a simple and a clean design. Front seats are roomy and very comfortable, but the rear seat is snug, with tight leg and head room. The coupe-like styling limits rear visibility and contributes to a cramped rear seat. Trunk room is good.
While the Regal is currently Consumer Reports Recommended, the organization doesn't yet have reliability data on the S60's new powertrain. Previous generations of the S60 have had average reliability.
Consumer Reports' testing procedures are the most comprehensive of any U.S. publication or Web site. More than 50 individual tests are performed on every vehicle, including evaluations of braking, handling, comfort, convenience, safety, and fuel economy. Roughly 6,000 miles of general driving and evaluations are racked up on each test car during the testing process. CR buys all its test cars anonymously from dealers. Other reviewers base their evaluations on press cars that are hand-picked by the automakers.
Consumer Reports is the world's largest independent product-testing organization. Using its more than 50 labs, auto test center, and survey research center, the nonprofit rates thousands of products and services annually. Founded in 1936, Consumer Reports has over 8 million subscribers to its magazine, website and other publications. Its advocacy division, Consumers Union, works for health reform, food and product safety, financial reform, and other consumer issues in Washington, D.C., the states, and in the marketplace.
— 30 —
SEPTEMBER 2014
© 2014 Consumer Reports. The material above is intended for legitimate news entities only; it may not be used for advertising or promotional purposes. Consumer Reports® is an expert, independent nonprofit organization whose mission is to work for a fair, just, and safe marketplace for all consumers and to empower consumers to protect themselves. We accept no advertising and pay for all the products we test. We are not beholden to any commercial interest. Our income is derived from the sale of Consumer Reports®, ConsumerReports.org® and our other publications and information products, services, fees, and noncommercial contributions and grants. Our Ratings and reports are intended solely for the use of our readers. Neither the Ratings nor the reports may be used in advertising or for any other commercial purpose without our permission. Consumer Reports will take all steps open to it to prevent commercial use of its materials, its name, or the name of Consumer Reports®.