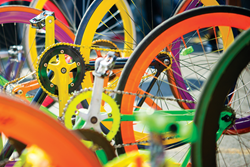 Rarity Bay - Bliss Award Winner 2014 Best Tennessee Community of the Year
Knoxville, Tennessee (PRWEB) July 22, 2014
Cycling enthusiasts from the Tellico Lake social clubs and surrounding community have an exciting opportunity to ride and cheer coming up on Saturday, September 27, as the Rotary Club of Tellico Lake hosts its ninth annual Tour de Tellico. Could there be a more beautiful place for a ride than through the rolling hills of Eastern Tennessee? Tour events include scenic 100K, 50K and 25K bicycle rides as well as a Century Ride (100 miles) for more experienced riders. This popular annual charity event benefits worthy causes in Loudon and Monroe Counties, including Dolly Parton's Imagination Library. Here's what to expect:
Day Schedule:
7:00 AM Century & 100K Check-in - Registration
7:45 AM Century & 100K Warm-up
8:00 AM Century & 100K Start
8:00 AM 50K & 25K Check-in - Registration
8:45 AM 50K & 25K Warm-up
9:00 AM 50K & 25K Starts
All events will start from the Baptist Church near TN-444 and Choata Road in Loudon, with long rides leaving at 8:00 a.m. The Rotarians will provide water and snacks along the way, and lunch following the rides. Cyclists of all fitness levels will find an event to suit them, and the 25K (15 miles) ride is a perfect way for families and boomers to spend a bright September morning. What a wonderful time to have fun, benefit the community, and enjoy fresh air and the lovely East Tennessee topography surrounding Rarity Bay homes.
Baby Boomers at Rarity Bay and around the country have discovered the benefits of pedaling for health and wellness, and many are taking it up as a hobby in retirement. Unlike running, skiing, court sports and many other forms of exercise, cycling offers a low impact workout that is much easier on the knees. The rolling hills surrounding the Eastern Tennessee lakefront real estate of Rarity Bay is perfect for cycling. There are so many wonderful Tellico Lake social clubs for boomers to choose from, including those devoted to fitness in general and cycling in particular. Cycling around Rarity Bay is more than a social activity. It also helps boomers to stay toned, improve balance and coordination, and build stamina. Cycling boomers see added benefits of keeping weight, blood pressure, and cholesterol numbers in check just by bicycling a few days a week – a heart-healthy workout.
With mild weather conditions and incredible vistas that reflect a change of the seasons, residents enjoy pedaling around their neighborhoods and the Eastern Tennessee lakefront real estate that surrounds Rarity Bay. The Great Smoky Mountains provide a backdrop of natural beauty, and there are many popular cycling trails in Great Smoky Mountains National Park along paved roads and three park nature trails. Bicycles are always permitted on the scenic Foothills Parkway, where there are plenty of places to stop and enjoy nature and magnificent views of the Great Smoky Mountains. There are also several trails of varying length and difficulty in surrounding communities that boomers from Rarity Bay can explore. Here are just a few:
Townsend Bicycle Path
This enjoyable 10-mile ride past shops, historic sites and eateries is on a paved path that runs through downtown Townsend, Tennessee, parallel with US 321. There is vehicle parking available on either end of the path.
Little River Run
This 8.4-mile path runs from Coulter Bridge on Walland Highway (TN State Route 73) to US 321, where it merges with the Townsend Bicycle Path.
Townsend Loop
This 4.5-mile trail loops downtown, beginning and ending at the Townsend Visitor Center.
Maryville-Alcoa Greenway Trails
Greenway Trails is actually a network of bike paths that connects the towns of Alcoa (Springbrook Park) and Maryville (Greenbelt Park and Sandy Springs Park).
Cades Cove Loop
This trail is 11 miles of paved loop that includes blind corners and steep grades. It is open to bikes on Wednesdays and Saturdays only between sunrise and 10 a.m. and after sunset. Plan on two to four hours to complete the ride, depending on your skill and fitness levels.
There is no doubt, living the life at Rarity Bay on Tellico Lake in Eastern Tennessee in view of the Great Smoky Mountains offers baby boomers a huge choice of active living pursuits, such as cycling. Said one longtime resident, "Five stars all around! Rarity Bay is serene with nature's beauty all around you. We have it all...water, mountains, rolling landscape, golf course, active community, beautiful sunrises and sunsets … We have been here nine years and love it!"
Pristine, 16,000-acre Tellico Lake provides 10 miles of shoreline for Rarity Bay homesites and recreation. Baby Boomers looking for an active, outdoor lifestyle and Eastern Tennessee lakefront real estate have found their little piece of paradise here. Many Rarity Bay lots have private boat dockage. The gated golf community near Loudon just off of I-75 is the perfect place to plan an active retirement or build a vacation home. With residents from all over the country, Rarity Bay enjoys over 50 Tellico Lake social clubs with a diverse menu of activities that takes full advantage of life in the foothills of eastern Tennessee. In addition to an 18-hole championship golf course – and dining at the yummy clubhouse – Rarity Bay has tennis courts, walking trails and green spaces, a dog park, an outdoor swimming pool and an equestrian center. A sense of community with friendly, caring neighbors makes it easy to get and stay involved in clubs, hobbies and social events.
Take a peek at Rarity Bay homes.
Lakes and mountains make for beautiful back yards, but when it comes time for power shopping, big-name entertainment, fine dining and top-tier medical facilities, Knoxville, Tennessee, is just a short drive east. There are several approved Energy Star green builders currently constructing Rarity Bay homes in a wide range of style and price points, including condos, villas and single family homes – with plenty of room to park your bike.
To schedule a tour of Rarity Bay homes during your cycling adventure at Tellico Lake, call Karen Millikan at On the Lake Realty, 423.519.3258.
About Real Estate Scorecard:
Real Estate Scorecard writes unbiased real estate reviews providing in-depth information about popular gated communities in Florida, Georgia, North Carolina, South Carolina and Tennessee, all in an effort to help people discover where to retire in the Southeast.
Website: http://realestatescorecard.com