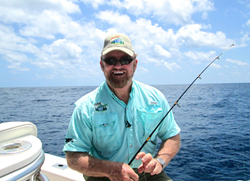 Hunting, fishing and grilling that is the tri-fecta of outdoor TV today.
Cartersville, GA (PRWEB) July 22, 2014
GrillGrate LLC is excited to announce a marketing and promotional partnership with O'Neill Williams of O'Neill Outside Television and Radio Series. This endorsement comes as O'Neill Outside celebrates its 30th year on television and radio in 2014.
"O'Neill has been a fixture of the outdoor TV world for 30 years and he's a perfect spokesman for GrillGrate," explains Brad Barrett, President of GrillGrate LLC. "O'Neill was one of the first to integrate outdoor cooking into his outdoor shows and now people tune in just for the recipes and to watch O'Neill cook as well as hunt and fish."
As a part of this endorsement deal, Williams will appear in GrillGrate television commercials, scheduled to air in the third and fourth quarters of 2014. Williams will also feature GrillGrate products during outdoor cooking segments of O'Neill Outside.
GrillGrate is an alternative grill surface that either sits on top of or replaces the surface of any grill. The patented raised rail design eliminates flare-ups and grills juicier and tenderer food. GrillGrates are ideal for grilling fish, lean meats, wild game and more.
Williams has a loyal following on television, on the O'Neill Outside website and a large fan base on email and Facebook. Barrett is excited to have Williams' support, and believes GrillGrate will be a perfect fit for the O'Neill Outside audience.
About GrillGrate LLC: GrillGrate LLC is based in Cartersville, GA. GrillGrates are manufactured in various lengths and shapes for all popular grills. GrillGrates improve the cooking performance of any grill, including gas grills, charcoal grills, kamado and pellet grills. GrillGrates are available at hardware, house-ware and outdoor retailers as well as at grillgrate.com. GrillGrates are proudly made in the USA. The GrateTool™ is made in China.
About O'Neill Outside: O'Neill Williams travels North America to hunt, fish and grill. His TV show O'Neill Outside is carried on Destination America, and Fox Sports South. O'Neill has been a longtime fixture in Atlanta on his Saturday morning radio show which airs on Atlanta's flagship station WSB 4:30AM-6:30AM.