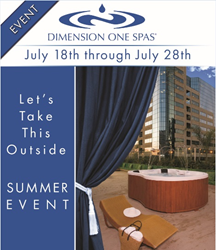 0% Financing for 24 Months!
Carlsbad, CA (PRWEB) July 22, 2014
Dimension One Spas' retailers across the country are offering 0% financing for 24 months on all models during the "Let's Take This Outside" Summer Event from July 18th-28th.
Please visit http://www.d1spas.com/financing for more information and to apply.
As the leader in hydrotherapy, Dimension One Spas offers a wide variety of outdoor hot tubs with exclusive features at your fingertips including lights, fountains, waterfalls, music, customizable massage, and personal controls.
To find an authorized D1 spa dealer closest to you, click HERE.
###
About Dimension One Spas
Dimension One Spas (D1), founded in 1977, is the industry leader in premium spas and swim spas and the home of the world's first curvilinear hot tub. Rooted in design, performance and style, D1 has crafted extraordinary user experiences with over 30 patents that incorporate sight, sound, mood and healing hydrotherapy. D1's four collections include the Bay Collection, Reflections Collection, @home Collection and the AquaFIT line. To learn more visit http://www.d1spas.com