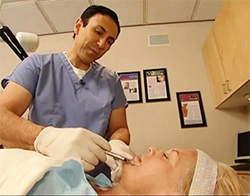 Los Angeles, CA (PRWEB) July 22, 2014
As reported on July 17, 2014 by ABC News, Kelly Ripa replied to a caller request to name her favorite beauty products, "Botox, that's pretty much it." Ms. Ripa went on to say that "Botox has changed my life" by halving the amount of time she spends in the makeup chair preparing for her various, daily appearances. "Suddenly my eyelids are no longer resting on my eyelashes," explained Ms. Ripa (see: goo.gl/shmTQM).
"I think that Kelly Ripa's response to the question was honest and appropriately worded," says Dr. Ourian, Medical Director of Epione Medical Corporation. "She went out of her way to say that she believed Botox treatments worked for her but wasn't advocating its use for others. I believe that done properly, Botox injections provide a cumulative preventative effect against fine lines and wrinkles."
Ms. Ripa, in the film clip included in the ABC News report, went on to say that she believed in a minimalist approach to cosmetic treatments. Ripa, show host Andy Cohen and guest Anderson Cooper discussed the overuse of dermal fillers by some reality TV stars. "The key to everything is knowing what you look like and being a minimalist," opined Ms. Ripa, "they go overboard."
"Ms. Ripa, Andy Cohen, and Anderson Cooper hit on an important point," says Dr. Ourian. "Some people no longer have a natural appearance after they get cosmetic treatments, especially dermal filler injections. My goal is to always provide a more youthful, rested, and natural-looking appearance. No one should look 'done' after receiving a treatment at our clinic."
Dr. Ourian has been a pioneer in laser technology and non-invasive aesthetic procedures including Restylane, Juvéderm, Radiesse, Sculptra, and CoolSculpting. These treatments are used for the correction or reversal of a variety of conditions such as acne, acne scars, skin discoloration, wrinkles, stretch marks, varicose veins, cellulite, and others. More information about Botox can be found on Epione's website.