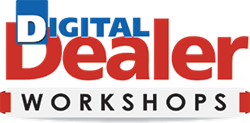 Boca Raton, Fl (PRWEB) July 22, 2014
Digital Dealer Conference & Exposition announced today the addition of three Digital Dealer Workshops in Houston, TX, Dallas, TX, and Pasadena, CA; in the weeks leading up to and following the 17th Digital Dealer Conference & Exposition to be held September 23-25th in Las Vegas.
In partnering with local auto dealer associations, Digital Dealer Workshops feature opportunities for dealerships to work directly with subject matter experts in automotive retail. Informational sessions provide a learning platform where attendees are exposed to the latest skills and best practices in a number of areas critical to dealership marketing & operations.
In contrast to the Digital Dealer Conference & Exposition, which receives over 1,500+ attendees from across the globe, for the 3-day event, Digital Dealer Workshops, a 1-day event, receives an average of 100-150 attendees. The smaller size provides for a more intimate learning environment where attendees have direct access to industry thought leaders and presenters for personal interaction and constructive dialogue.
"Digital Dealer Workshops are our response to the increase in demand for relevant and actionable educational sales and technology training for automotive dealerships," states Michael Roscoe, CEO of Digital Dealer. "They are an extension of the content provided and solutions exhibited at our conference, and provide a 1-day training experience unlike any other."
Digital Dealer Workshops kick off in Pasadena, CA on September 16th, one week prior to the 17th Digital Dealer Conference & Exposition in Las Vegas. After the conference, Digital Dealer Workshops will head to Texas for the Houston Workshop on October 27th, followed by the Dallas Workshop on October 29th.
About Digital Dealer:
Digital Dealer Conferences & Workshops are seasonal events focused on further educating automotive professionals on new and emerging digital technologies and strategies required for success in today's high-paced and highly digital automotive sales environment. Digital Dealer events deliver a wide array of cross-industry experts, peer-to-peer opportunities, and vendor networking offerings – all carefully designed to impart cutting-edge business strategies for automotive dealers and managers.
For additional information and registration for Digital Dealer, visit http://www.digitaldealerconference.com
For media inquiries and press participation at the 17th Digital Dealer, email jruiz(at)dealer-communications(dot)com