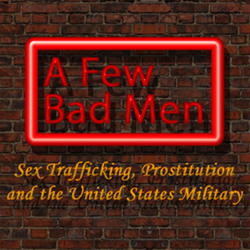 The very first day I set foot in The Philippines as a submarine officer ... a trafficker attempted to sell me an underage girl for the night.
Washington, DC (PRWEB) July 23, 2014
A Few Bad Men, a book written by former Navy submarine officer and JAG Gregg Parker, offers a searing account of sex trafficking and forced prostitution near many overseas U.S. military locations and what can be done to bring these evil businesses to an end. Filled with intense real-life stories and shocking new information, Parker's book is a gripping journey through the underground sex industry operating just beyond base gates, where young men and women, driven from their homes by poverty and desperation, have fallen victim to sex traffickers.
Gregg Parker served for 10 years in the submarine force before finishing his career as a Navy JAG. His service took him all over the world, where he witnessed commercial sex industry practices targeting members of the U.S. military.
"The very first day I set foot in The Philippines as a submarine officer, I encountered a victim of sex trafficking just beyond the gate leading from the base to Olongapo City. While walking with a group of shipmates, a trafficker attempted to sell me an underage girl for the night," said Parker. "I'll never forget that moment, or the look on that young girl's face."
It's a situation Parker has seen over and over again as he traveled with the Navy. "Overseas duty can be a recipe for disaster. Young servicemen are stationed far away from their family and friends, with money and time on their hands, and are often serving in countries where poverty and hopelessness are a way of life. This creates an ideal situation for traffickers - an endless supply of victims as well as a constant supply of clients," stated Parker.
The emotional impact of these experiences made a deep impression on Parker and motivated him to write A Few Bad Men, a book he hopes will bring much needed attention to this situation and help bring it to an end.
Parker is currently preparing A Few Bad Men for publication and has launched an Indiegogo campaign to cover related expenses.
To view the Indiegogo campaign, visit http://igg.me/at/afewbadmen. The book's website is located at http://www.afewbadmen.org.
Gregg Parker is founder and president of Lazarus International, a human rights agency that prevents innocents from becoming victimized by human traffickers by providing awareness training and resources to communities in the United States and overseas. Parker is a former Navy officer and member of the JAG Corps and has witnessed the devastating effects of human trafficking near overseas military bases and liberty ports while serving his country.
To schedule an interview with the author or to request a review copy, please contact: Al Koch, info@afewbadmen.org, 855-452-9278, x703.