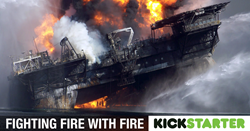 Los Angeles, CA (PRWEB) July 22, 2014
OurSimpleEarth.com, the newest entity of OES Publishing is proud to announce the launch of its first Kickstarter campaign. The goal: to raise $20,000 to fund a docu-series about the perils of the oil and gas industry.
For too long, the oil and gas companies have dominated the environmental conversation. They have more money. They can employ high-priced ad agencies to produce slick, easily digestible stories to tell their side of the story. They tell the public that fracking is a boon to the economy and the safest extraction technique invented. They show the pretty, happy families who benefit from the benevolent oil company. They control the message. They keep the public in the dark. They don't want anyone to see the truth: flammable drinking water and daily earthquakes, beaches covered in sludge and families dying of cancer. Their image is everything. They'll pay whatever it takes to keep it pristine.
"This is an exciting time for us here at OurSimpleEarth," said editor Ryan Callahan. "Fight Fire With Fire gives us the opportunity, as members of the media ourselves, to expose the tricks and techniques of big oil and gas companies. I think that it's only when we, the public, know the truth, that we can have an honest conversation about what's going on."
In partnership with Propaganda Marketing Services, OurSimpleEarth plans to produce a new docu-series, Fight Fire With Fire, which will pull back the curtain on the marketing tricks and media spin of the oil and gas companies. With the help of Propaganda's media professionals—expert writers, artists, and storytellers with years of experience — OurSimpleEarth is confident that there isn't a lie that can't be exposed. The project will cover the large scope of oil and gas company advertising, to combat it with research-backed evidence that shows the public what's really happening.
OurSimpleEarth is excited about the opportunity, through Kickstarter, to produce a docu-series for the people, with the help of the people. Through small contributions, OurSimpleEarth is confident that this groundbreaking project will bring more attention to the problem, in an effort to effect change.
OSE Publishing is a publishing company specializing in environmental issues with new affiliates in Chicago, New York, Dallas, and Washington, DC. Champion of the "little guys," OES Publishing's grassroots efforts are reaching new heights with the company's debut into the digital world.
Propaganda Marketing Services, Inc. is a full service boutique agency located in Plano, Texas. Focused on bringing attention to environmental concerns, Propaganda Marketing Services has provided content for Earth911.com and is motivated to empower the public with honest news and commentary.