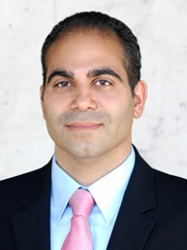 With this new website, I am able to provide patients with a knowledgeable and trustworthy source for various colorectal conditions.
Beverly Hills, CA (PRWEB) July 22, 2014
Dr. Allen Kamrava, colorectal surgeon in Beverly Hills, is pleased to announce the launch of a new website dedicated to the diagnosis and treatment of various colorectal conditions. The website can be found at DrKamrava.com.
"With this new website, I am able to provide patients with a knowledgeable and trustworthy source for various colorectal conditions," says Dr. Kamrava. "Whether they suffer from hemorrhoids, fissures, gallstones, colon cancer, hernias, or more, patients will find that this new site is an invaluable and essential source for their treatment needs."
At his colorectal facility in Beverly Hills, Dr. Kamrava utilizes years of experience and state of the art procedures to provide patients with the ultimate treatment for their colorectal needs. Although he knows it can be an embarrassing subject, Dr. Kamrava encourages potential patients to reach out and seek treatment for their condition.
"Many people are hesitant to open up about their colorectal conditions, but early treatment is critical when dealing with these diseases," says Dr. Kamrava. "People shouldn't be embarrassed about colon cancer, pilonidal disease, or hernias. With proper treatment, patients can enjoy a life free from the stress and worry of these conditions."
In addition to providing innovate and highly effective treatment options to his patients, Dr. Kamrava also offers cosmetic anal rejuvenation procedures, which are used to beautify the most intimate body parts.
"Cosmetic anal rejuvenation is ideal for the perfectionist who wants a customized and clean look throughout his or her entire body," says Dr. Kamrava. "People give a healthy amount of thought and attention to other parts of the body, but for a complete, fresh look, patients should consider cosmetic anal rejuvenation for their hygienic and beauty needs."
On DrKamrava.com, patients can also find the following services and articles:

Online appointment forms
FAQs for some of the most common colorectal conditions
Reviews from satisfied patients
Frequently updated blogs about colorectal news and treatments
"With this new website, I'm excited to provide patients with information that can help in their fight against colorectal diseases," says Dr. Kamrava. "I want people to realize that they're not alone; millions of people suffer from colorectal conditions, and I'm here to help."
Allen Kamrava, MD is a Board-certified colorectal and general surgeon who uses innovative and exciting technologies to treat colon cancer, hemorrhoids, and other colorectal conditions. Dr. Kamrava's clinical research interests include the care of patients with advanced colorectal cancers and complex anal diseases. Dr. Kamrava earned his Bachelor of Science degree in Neuroscience at University of California, Los Angeles. His studies continued in Philadelphia, where he completed a dual graduate degree in medicine and business administration at Temple University's School of Medicine and The Fox School of Business. He then completed his General Surgical residency at Kaiser Permanente Hospital in Los Angeles and his fellowship in Colon and Rectal Surgery at the University of Pennsylvania. Dr. Kamrava is the founder of his own private colorectal practice in Beverly Hills.
To contact Dr. Kamrava, please visit http://drkamrava.com/ or call (424) 279-8222.