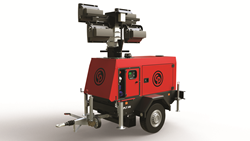 Ankeny, Iowa (PRWEB) July 22, 2014
QA Graphics recently produced a unique marketing tool for Chicago Pneumatic, a global manufacturer of high-performance tools and equipment.
Performance Marketing partnered with QA Graphics to help produce an animated video for Chicago Pneumatic. The video will be used to educate members of their sales channel and end users of the features, benefits and functionality of this new product.
QA Graphics produced a 3D model of the CPLT H5, a portable light tower, using our new GPU rendering software, which can be up to 50 times faster than the old CPU method. Performance Marketing provided the storyboard and voiceover. We then utilized the model in conjunction with other images to produce the video, which made its debut at Chicago Pneumatics' launch event in Spain this past month.
"Our client was extremely impressed with the quality delivered in a compressed timeframe. They received great feedback at the launch event, and their sales force was excited to put the new tool to work to drive sales," said Ryan Albers from Performance Marketing.
QA Graphics helps change the way you communicate. As technology continues to evolve, so do viewers' expectations. QA Graphics prides itself and has built lasting relationships with full service marketing agencies that may not have the full 3D capabilities we do.
Our multimedia team uses the latest technologies to produce professional animated videos, motion graphics and other visual effects. By investing in both personnel and resources, we have the ability to take something from scratch to create realistic, 3D graphics, animation and voice-over. We bring projects to life. Learn more about QA Graphics' industry leading design solutions and view the full video.
About QA Graphics
QA Graphics is a full-service design firm that provides industry leading interactive and 3D design solutions for marketing, sales, training and education. Our talented mix of creative and technical staff offers BAS graphic services, the award-winning Energy Efficiency Education Dashboard and Data Manager, video production, 3D design, and much more.
Contact us to make our industry-leading products part of your brand today and join our group of satisfied clients.
About Performance Marketing
Performance Marketing (PM) serves a diverse range of clients with different needs, but the firm's sweet spot is helping clients take an honest look at where their marketing needs to work harder and giving them smart ways to solve it. PM understands the complexities of connecting with influencers at every point of the sales process, no matter what that process looks like. Whether brands need to push communications from the top down or create the pull of customer demand, PM has the tools to do just that.
About Chicago Pneumatic
Since 1901 the Chicago Pneumatic name has represented high-performance tools and equipment designed for an extensive range of applications. Today, Chicago Pneumatic has a global reach, with local customer centers around the world. Chicago Pneumatic tools and air compressors are tailored to the needs of the industrial, vehicle service, and construction markets. Every day Chicago Pneumatic develops and manufactures new products that are meant to meet customer demands not only today, but tomorrow as well.