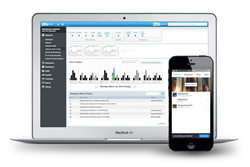 Our second-quarter growth demonstrates the strength of our strategy and cements our position as one of the industry's most innovative CMMS providers
Toronto, Canada (PRWEB) July 22, 2014
Maintenance Assistant Inc, a global leader in cloud-based Computerized Maintenance Management Software (CMMS), announces another solid quarter with business up 50% over the same quarter last year. In addition to a strong financial performance, Maintenance Assistant added another record number of new customers spanning 22 industries including manufacturing, facility management, transportation & logistics, mining and healthcare. "Our second-quarter growth demonstrates the strength of our strategy and cements our position as one of the industry's most innovative CMMS providers," said Marc Castel, CEO. "Maintenance Assistant continues to be instrumental in solving the industry pain points through relentless innovation and customer engagement. Our game-changing multi-tenant cloud environment is opening up new possibilities for asset intensive industries around the world. Mobility, big data, shareable resources and the cloud will transform the way businesses manage their assets and we are at the forefront of that change with our advanced platform."
"Our growth is driven by sustained investment in new technologies," said Daryl Sedgman, President. "In Q2, we continued to strengthen our core competencies in agile development, R&D and design by recruiting outstanding talent and significantly growing our development team. We continue to focus relentlessly on improving our core product offerings by delivering more enjoyable and intuitive user experiences. In late June, we hit an important milestone with the Beta launch of our new mobile application. MA CMMS™ Mobile is a hybrid native app for Android and iOS that resides on your smartphone but keeps your data safe in the cloud. It combines our patent-pending mobile on-boarding solution with a brand new mobile CMMS experience and is expected to be commercially available for all customers in early August."
Partner Technology Enablement
"In addition to the expansion of our subscription CMMS business, 2014 will see the Company deepen its partner enablement model through a rich suite of technologies that will bring cutting-edge solutions to OEMs and their customers. Our roadmap includes a white label CMMS offering with a full provisioning system, an expanded MRO and re-seller marketplace, Machine to Enterprise connections, custom features and the much anticipated commercial launch of our API and SDK. Our goal is to make Maintenance Assistant the asset management platform for the Internet of things (IoT), and the launch of our API will put us in a strong position to achieve that goal," said James Novak, Executive Vice President. "The API is built on our multi-tenant architecture using modern industry standards and intelligently manages the flow of data securely and reliably between MA CMMS™ and third party software and devices, making MA CMMS™ an actionable endpoint for our customers' and partners' data. Our strength is our technology and we see the roll-out of our Platform-as-a-Service (PaaS) as a key enabler for OEMs to quickly develop richly integrated, creative business solutions for their customers at a fraction of the price of building their own CMMS."
About Maintenance Assistant CMMS
Maintenance Assistant is an Enterprise Asset Management and CMMS cloud solution used by thousands of asset-intensive businesses around the world to transform their maintenance operations, eliminate waste and costly downtime, and manage risk. Our flagship product, MA CMMS™ is a core business management tool used by maintenance managers, technicians, engineers, purchasing agents and business owners to streamline their maintenance operations and improve their bottom line. Since its launch in 2006, Maintenance Assistant's CMMS has been deployed in over 150 countries and in more than 30 languages. We are one of the fastest growing maintenance software solutions, providing a modern CMMS / EAM experience to customers around the world.
For more information please contact: meredith(at)maintenanceassistant(dot)com.