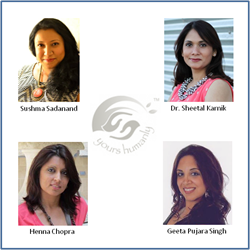 San Francisco, CA (PRWEB) July 29, 2014
As a result of the tremendous support from people in the state of Arizona, Yours Humanly is proud to announce that it will host its first out-of-state fundraising event in Phoenix. On Saturday, August 16th, the non-profit organization will host a Black Tie Event, to be held at the Indian Delhi Palace. The event will include a three course gourmet Indian meal, and it will feature a variety of entertainment including dance performances, live singing, and a fashion show choreographed by Kaeya Indian Couture. A silent auction and raffle will also be held to raise additional funds for the cause.
Miss Arizona United States 2014, Savanna Troupe will also be at the event and will address the audience on how instrumental a safe environment, like a school, is to the less fortunate children.
Tickets to the event are available here
Yours Humanly has dedicated itself to helping underprivileged children attain the education needed to make a difference in the world. The non-profit also helps children who have been victimized by child labor, prostitution, or other damaging situations, achieve the proper education needed to live a fulfilling and successful life.
"Today's children are tomorrow's future. I dream of a peaceful, prosperous and glorious tomorrow. Let us join hands with Yours Humanly in providing an opportunity to empower unprivileged children around the world through education and take them one step closer in building that world we dream of," says Sushma Sadanand, the lead event organizer and resident of Chandler, Arizona, who has played a huge role in bringing Yours Humanly to Phoenix.
Support has come not only in the form of corporate sponsorships from local businesses, but also from local residents, like Sushma, who believe in the cause and have selflessly volunteered their time.
"Nelson Mandela once said, 'Education is the most powerful weapon which you can use to change the world,' and I am happy to be a major contributor to the cause of Yours Humanly," continues Sushma.
As a result of their hardworking nature and sense of compassion, three other volunteers Henna Chopra, Geeta Pujara Singh, and Dr. Sheetal Karnik have also devoted a tremendous amount of time and energy into building Yours Humanly's presence in Arizona.
"Benjamin Franklin once said, 'An investment in knowledge pays the best interest'. Something I'd strongly believed and what better way to invest in knowledge by giving this opportunity to the future of tomorrow. And that's what Yours Humanly is doing. It's a privilege to be associated with such a noble cause," said Henna Chopra, a resident of Gilbert, Arizona.
As Yours Humanly steadily builds influence throughout the United States, more devoted volunteers are joining the cause. While millions of children around the globe do not have a support system to help them grow emotionally and intellectually, the organization's mission is to provide all children with the chance to overcome the formidable hardships which they have faced early in life by giving them access to the education system.
"Every child, regardless of their economic or social background, deserves an education. Education is a tool which allows children to foster their creativity and encourages innovation. This will not only allow them to be independent, but also enable them to help their families and community, and ultimately, make the world a better place. I feel privileged to be a part of Yours Humanly, an organization which empowers children to turn their dreams of success into a reality," says Geeta Pujara Singh of Chandler, Arizona.
"Being a scientist, I have always valued education immensely. Education is a necessity of mankind and should not be a privilege; every human should have a right to be educated. After all, we might have a Newton, an Einstein, and a Steve Jobs right amongst those kids who never got a chance just because he or she was born as an orphan or in a poor family. Yours Humanly is doing phenomenal work with educating the underprivileged and giving every kid a hope of better life. I whole heartedly support the mission and goals of Yours Humanly and am honored to be able to help out for this event," says Dr. Sheetal Karnik, the founder of New Edge Science Academy in Chandler.
Yours Humanly thanks its sponsors and media partners for their support towards this event. Special thanks to Ms Sadanand, Ms Chopra, Dr. Karnik, and Ms Singh who have played a key role in bringing Yours Humanly to Arizona. As it expands its influence across the world, Yours Humanly is proud to have devoted volunteers who share a similar value for literacy and are willing to spend their spare time making sure that no child is deprived of the right to an education and a fulfilling life.
About Yours Humanly
Yours Humanly is a non-profit organization dedicated to sponsoring education for children around the globe to prevent them from being victimized by poverty, child labor, prostitution, and other potential devastating situations. The non-profit's mission is to empower underprivileged children around the world through education and instill in them a real sense of pride, confidence, and freedom. With the assistance of volunteers and donors, the nonprofit provides funding to pay for education-related costs such as tuition, books, and uniforms for grades K-12.
http://yourshumanly.org/english/index.php
Tickets to the event are available at this link:
http://yourshumanly.org/english/event_detail/21/Yours_Humanly_Charity_Night.html
Contact Yours Humanly
For more information about Yours Humanly, contact the media/PR department via e-mail at media(at)yourshumanly(dot)org, or via phone at 925-680-9700.
To be a corporate sponsor for this event and support with a tax deductible donation, please email info(at)yourshumanly(dot)org