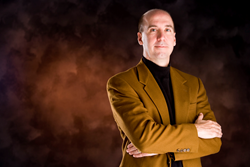 As a futurist, I view one of my main responsibilities as helping farmers and leaders in the agricultural industry learn how jump the curve when it comes to future trends.
Chicago, IL (PRWEB) July 23, 2014
"The next era of farming is just around the corner." And futurist Jack Uldrich will be discussing the top ten trends that will be affecting agricultural leaders at this year's FS Agronomy Event in Peoria, IL. As a futurist, Uldrich sees part of his mission as helping his clients at FS to prepare for what's coming next in agriculture.
When it comes to the future of farming, Uldrich says the most provocative trends include GMO's, Robotics, the Internet of Things, Urban Agriculture, Big Data, Precision Farming and Nanotechnology. When it comes to nanotechnology, Uldrich knows where of he speaks. As the author of "The Next Big Thing is Really Small," Uldrich focuses a fair amount of his research on the on the latest trends in nanotechnology. He says, "Nanotechnology has a range of practical agriculture applications in everything from advanced packaging and next-generation sensors to advanced animal husbandry techniques."
When it comes to Uldrich's commentary on the controversial GMO's, it has been said, "These are realistic predictions. More people are seeing the benefits of and necessity for genetic modifications of crops, but there are still very vocal opponents who slow the process of change." For more of his thoughts on the future of Agriculture, read his article, "Five Future Trends in Agriculture" here.
A highly acclaimed speaker, Uldrich has addressed hundreds of Agricultural Groups all over the world including Novozymes, Land O'Lakes, Ag Gateway, Canada's Agricultural Adaptation Council, the California Ag Summit, and the 2014 PMA, among others.
Uldrich addresses a wide variety of topics to groups in several areas, such as finance, healthcare, transportation, telecommunications, marketing and retail. Having recently wrapped up over twelve sessions with Verizon Wireless' national Connected Technology Tour, Uldrich is next off to the UK to address a private client, following his keynote in Peoria.
Parties interested in learning more about Jack Uldrich, his books, his daily blog or his speaking availability are encouraged to visit his website. Media wishing to know more about the event or interviewing Jack can contact Amy Tomczyk at (651) 343.0660.