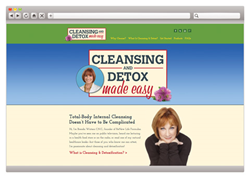 In a few simple steps, consumers can get the answers they need on total-body internal cleansing and detox.
Clearwater, FL (PRWEB) July 24, 2014
ReNewLifeCleansing.com was inspired by ReNew Life founder and president, Brenda Watson's own personal health "makeover." While waging her battle with poor health, she discovered the natural remedies that would be the foundation for her recovery. She became an expert on cleansing, detoxification, and digestion, and perfected how specific blends of herbs, minerals, and other ingredients derived from nature help support the natural processes that rid the body of unwanted waste and toxins for better overall health.
"Lately, there has been a lot of confusion in the cleansing market due to various diet products linking weight loss to juice cleanses, colon cleansing, and other cleansing fads," stated digestive care expert, Brenda Watson. "This has shifted the focus from the traditional benefits of total-body internal cleansing and detoxification that are so important in our toxic world—with over 80,000 environmental chemicals in use today."
When a recent survey revealed that 80% of consumers have difficulty understanding cleansing and detoxification, ReNewLifeCleansing.com was created to make it easy for consumers to choose the cleansing product that's appropriate for them. In a few simple steps, this easy-to-understand website helps guide consumers to get answers they need:

Why Cleanse?
What is Cleansing and Detox?
Get Started!
To learn more about cleansing and detoxification, visit ReNewLifeCleansing.com.
About ReNew Life
A leader in Natural Digestive Care, ReNew Life Formulas was founded in 1997 by Brenda and Stan Watson and offers a full spectrum of award-winning, digestive-care supplements and functional foods. Each ReNew Life product is made from only the finest raw ingredients. The company's analysis, educational materials, customer service, and superior manufacturing practices all set the benchmark for others in the industry. Above all, ReNew Life is dedicated to helping their customers achieve and maintain optimal health, increase energy,y and enhance mental clarity.
For additional information on ReNew Life's ReNewLifeCleansing.com's Cleansing Made Easy program, please contact Bcooper(at)renewlife(dot)com