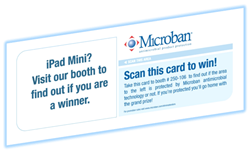 Huntersville, Mecklenburg (PRWEB) July 22, 2014
Prizes will be awarded at the Microban ® booth daily, including iPad Minis! Be on the lookout for the Microban® promotional cards and take them to booth # 250-106, August 6th-9th to see if you are a winner.
"Our odor prevention technologies help eliminate odor issues on apparel, footwear and outdoor equipment," says Richard Chapman, VP Marketing for Microban International. "Odor is recognized as the major pain point for 71% of performance wear consumers and has become a focal point for our Research and Development team to find effective prevention solutions." Chapman goes on to say, "The Microban team is extremely excited to share these breakthrough technologies with our trade partners at the Outdoor Retailer Summer Market."
Odors on textiles are often caused by a variety of factors. Fabrics used for performance wear and footwear come into contact with moisture, humidity, skin bacterial flora and soils making an ideal breeding ground for odors caused by bacteria, mold and mildew. Body odor can also build-up on the fabric and create unpleasant smells especially on synthetic textiles, reducing its useful life. Microban® antimicrobial technologies prevent odors by inhibiting the growth of bacteria, mold and mildew. These technologies can also keep clothing and other fabric goods cleaner between washings.
Microban® utilizes a wide range of antimicrobial technologies with environmentally friendly attributes. All Microban® antimicrobial technologies have a long history of safe use and are registered with the EPA or the appropriate local regulatory agencies.
About Microban
Microban International, Ltd. is a global technology and marketing company dedicated to enhancing high quality consumer, industrial and medical products with branded built-in protection from microbes. The Microban® brand is an important consumer Trustmark for effective and long lasting antimicrobial product protection. Microban International licenses the Microban® global brand name, sells custom-engineered compounds, and provides a range of services, including regulatory and marketing support. Microban International is headquartered in North Carolina with operations in North America, Europe and Asia. For more information on Microban, please contact (704) 875-0806 or visit microban.com.
Microban® is a registered trademark of Microban International, Ltd. Used with permission.