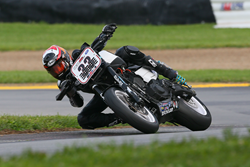 That was certainly the longest day I've ever had in racing.
Plymouth,WI (PRWEB) July 22, 2014
A little weather delay wasn't enough to stop Kyle Wyman from an impressive showing at this past weekend's AMA Pro Racing events at Mid-Ohio Sports Car Course.
The race-delaying weather resulted in the AMA condensing a weekend's schedule of events into one full day. The Millennium Technologies sponsored rider competed in both Daytona Sportbike events taking places of 11th and 7th. Wyman also competed in the Harley-Davidson series event in between both Sportbike events, finishing in 4th place.
The busy day didn't faze Wyman too much. "That was certainly the longest day I've ever had in racing," Wyman said. "Three races is a lot for one day, but I really didn't mind it all that much. I had a ton of fun in both classes, especially in race two on the DSB bike. We finally found a great setup and I was very comfortable."
Wyman's 7th place finish in the Daytona Sportbike event has been his first top-ten finish in the event since his competition at Road America in June. It is also his best finish since taking 6th place in March's Daytona 200.
Still, Wyman feels progress is being made with high hopes for the rest of his season. "I feel like we are on a climb back towards the front," Wyman added. "We had a little bit of a slump mid-season, but I feel New Jersey in September will be my strongest track on the schedule. I can't thank Millennium Technologies enough for standing behind me and supporting me in such a big way this season. I want to reward them with a pair of top-5 finishes at the end of the year."
With his results, Wyman brought himself up to 8th place in the AMA Pro Daytona Sportbike series points standings, and still holds onto the 6th place position for points in the Harley-Davidson series.
Wyman's next event is scheduled at the Indianapolis Motor Speedway August 9-11. Wyman will partake in the AMA Pro Harley-Davidson series event which acts as a support race for MotoGP.
To follow Kyle's career, visit http://www.facebook.com/kylewymanfans.
To build a bike as fast as Kyle's, visit http://www.mt-llc.com.