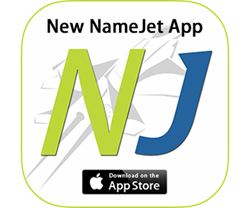 We are always looking for new and innovative ways to improve our customers' experience. This new app makes it easier for them to bid from their phones and never forget a closing auction. -Matt Overman, General Manager Namejet
Kirkland, WA (PRWEB) July 22, 2014
NameJet, the award-winning aftermarket domain name auction company, has developed, in conjunction with WillowTree Apps, a new bidding application for iOS. The app has an easy-to-use interface, allowing customers to manage their bids, putting them in control of their auctions regardless of location.
Matt Overman, General Manager of NameJet said, "We are always looking for new and innovative ways to improve our customers' experience. This new app makes it easier for them to bid from their phones and never forget a closing auction."
Some notable features of the app are:

Account Controls
List My Current Auctions
Last Minute Board
Sort By Domain, Time Left, and High Bid
Auction Details
Place Proxy Bids
Real Time Status Updates
Bid History
Alert Settings for Auction Starting, Auction Ending, Reserve Met, Outbid, and Auction Closing
Optional Push Notifications
Customer Service Connect
The new NameJet bidding app is now available for free download at the iTunes Store.
About NameJet:
NameJet is a joint venture between Demand Media, Inc. (NYSE: DMD) and Web.com Group, Inc. (NASDAQ: WWWW)] who each own two of four leading ICANN-accredited registrars (eNom, Name.com, Network Solutions and Register.com). Launched in 2007, with core auction software and technical infrastructure operating since 2004, NameJet serves domain investors, Fortune 500 companies and their representatives, small- and medium-sized businesses, as well as a diverse and global mix of individual investors. It has processed over 200,000 domain auctions, establishing itself as a trustworthy and transparent auction platform that is customer-focused and user-friendly.