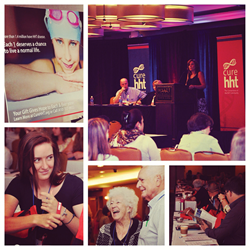 It is time to shed light on the serious nature of HHT and the devastating impact that can occur if HHT is left undiagnosed and untreated.
Monkton, Maryland (PRWEB) August 05, 2014
The HHT Foundation International has officially launched its new brand name, Cure HHT, along with a new brand identity and evolved message platform. Cure HHT is devoted to finding a cure for HHT disease, providing information and education for patients and physicians, improving access and standards of patient care, advancing treatments and raising awareness about HHT disease.
The new Cure HHT brand – the result of a comprehensive rebranding – was first introduced to more than 200 patients, families, medical and scientific professionals at the Foundation's 17th National Patient & Family Conference on July 18, 2014. Cure HHT represents a significant transformation for the Foundation, one that deepens its resolve in finding the cure for HHT and plays a vital role in helping to expand efforts and reach more people.
The Cornerstone of The HHT Community, the brand's new tag line, acknowledges the organization's role within the community and efforts – which are fundamental to ending this disease. Cure HHT is:

The "trusted" source for people and families affected by HHT to find the latest information, resources to manage their disease and live a full and healthy life.
Leading the way to deliver better treatments and care by connecting together the medical and scientific communities in lasting partnerships.
The rally cry of the community, empowering and inspiring people to take action and spread the word and raise awareness about HHT disease.
"During the rebranding process, it became clear that it was essential to change how we talk about ourselves, so that it is immediately apparent that everything we do helps those affected by HHT will have the chance to have a normal life," said Marianne Clancy, Executive Director of Cure HHT. "It is time to shed light on the serious nature of HHT and the devastating impact that can occur if HHT is left undiagnosed and untreated."
Cure HHT's efforts today are funding the best HHT research, educating patients and improving access to qualified HHT physicians. Their goal is to transform treatments and perceptions about HHT disease worldwide. Treatments and research on HHT have not kept pace with other diseases. Cystic Fibrosis and ALS, both as common as HHT, take less time to diagnose. People suffering from HHT can wait up to 30 years to receive a diagnosis. "There is an urgent need for new therapies for HHT and for the research to get us there," said Dr. Marie Faughnan, Scientific Research Director for Cure HHT. "People with HHT see this need in their families, Cure HHT joins them to the broader community where they can reach out for help."
About HHT Disease
HHT is a genetic blood vessel disorder that results in artery vein malformations (AVMs). This disease has hidden effects that can be more severe than people think. Over 1.4 million people have HHT disease, but today 90% of people with HHT are undiagnosed. Unless detected and treated, people are exposed to sudden, possibly disabling and life-threatening events due to bleeding into major organs such as the lungs and brain.
Symptoms of HHT range from mild to severe and often can masquerade as other diseases. Frequent nosebleeds are very common, 90% of people with HHT will develop recurring nosebleeds by age 40. Chronic intestinal bleeding along with nosebleeds results in anemia in 50% of people with HHT. Additionally, 95% of people with HHT develop small red spots, called telangiectasias, on their face, mouth and fingers. It is important for the public and medical professionals to be aware of the signs of HHT. Cure HHT is currently developing online tools to help educate medical professionals and provide patients and families with a new online "Find A Doctor" directory to help dramatically reduce the undiagnosed population.
About Cure HHT
Cure HHT is the only organization devoted to finding a cure for HHT, a potentially devastating disease, affecting 1.4 million people worldwide. With proper diagnosis and treatment, life-threatening complications from HHT can be prevented. The advocate for patients and families, Cure HHT leads the effort to improve the lives of each person affected by HHT. Our comprehensive strategy and efforts help to fund the latest research, educate patients and physicians, improve access and standards of care and elevate the voices of those affected to the national stage. To learn more about HHT disease or to find a certified HHT Center of Excellence near you, visit CureHHT.org. For the latest news and updates, follow us on Twitter and Facebook.