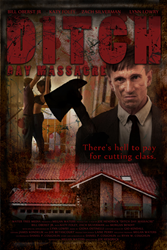 "Ditch Day Massacre" is a worthy modern contemporary to add to the list of slashers done well." Kevin Scott
Los Angeles, Ca (PRWEB) July 30, 2014
Earlier this week, an influx of reviews began popping up from around the globe. In its first examination under the microscope, Ditch Day Massacre (Bill Oberst Jr. Katey Foley, Zach Silverman, Morgan Benoit, Lynn Lowery) emerged with high praise for its story, unique villain, practical gore and old school charm. "It harkens back to the more nostalgic days of Scream and the "rules", says the Horrornation blog out of the UK.
According to Kevin Scott, long time fan and horror reviewer for Superdupershockcinema.com, "Details are everything, and a slasher film done right has to create a mixed feeling of sympathy and revile for the killer, a claustrophobic feeling of no escape for the victims, and a hope that the last virginal survivor is gonna make it out by the end." Scott sums it up with, "Ditch Day Massacre" is a worthy modern contemporary to add to the list of slashers done well."
Michael Juvinall of Horrorsociety.com gives Ditch 4 out 5 pentagrams. It was the writing duo Daniel P. Coughlin (Lake Dead, Farm House) and his brother Ryan W. Coughlin that crafted a strong story. Juvinall, "On the outside, Ditch Day Massacre promises to be another by-the-numbers slasher pic, but upon closer examination, the film is a pleasant surprise with a great story, wonderful acting, and some great gore."
Dax Bradley of KillerBMovies feels the same: "There has to be a good story, at least some depth, and characterization. Those elements can make or break a good movie. The writing [in Ditch Day Massacre] is much more detailed…this story has surprising depth and characterization. There are several points that puts this film ahead of others in the genre."
The apple eating, crafted attire and unmasked villain made a lasting, bloody good impression.
"Bill Oberst Jr. burns through the celluloid like a gentleman madman", Scott. Oberst "plays [Vic] with a wide range of emotions. His eyes convey so much, that with very little or no dialog, the actor shows us rage, elation, remorse, and maybe even some regret showing through. An actor with the skill to communicate so much without uttering a word deserves accolades" ~ KillerBMovies.
Even in the ultra-low budget category, Ditch Day Massacre managed to impress and even woo critics with its complex and believable special effects. Special effects make up team, Josh and Sierra Russell's work earned a comparison to A-list films. Australian horror reviewer Adam Weber, "the best practical gore and makeup effects I've seen in any horror flick with this kind of budget." Dax Bradley agreed: "[The effects team] earns major props because the creative team opted for physical effects, rather than CGI. The makeup and prosthetic work make this look superior to modern A-list films, which rely too heavily on computer effects….Tom Savini would be impressed with this project."
"Watch out for team Josh and Sierra Russell as we move into the next generation of horror filmmakers." ~ Daniel P. Coughlin
Reviewers are singing praise to the fast pace of the film. It is non-stop action created by editors James Kondelick and Joe Betancourt. It "plays the angle of the tension of the killer being in the house, on the other side of the door, and maybe right behind you with an unapologetic zeal." Scott
Needless to say, the production team is ecstatic with the first round of reviews. For many, this was more than a film—it was a proving ground, a step toward the beautiful American Nightmare. And with their hard work came the heavy burden of creating a worthy product. This film and all of its creators (cast and crew) relished in the experience. Across the charts, their hopes for horror fans is that they'll laugh, cry, scream, puke, jump, but ultimately enjoy this homage to the 80's horror films that reaped a hell of an audience way back when.
The verdict out of the gate on this film is….
"Ditch Day Massacre pulls no punches and slays your perception of slashers. There is just enough familiarity to make you believe you've seen it all before, and then it slaps you in the face and hangs you up by your ankles. Longtime fans of slasher flicks will feel like kids again. There are many references to classics, from Halloween to The Shining. If you enjoy this type of movie, you'll get a serious kick out of Ditch Day Massacre." Bradley
"Ditch Day Massacre is one of the best low-budget slasher flicks that I have seen this year! Trust me, I watch a lot of these and this far supersedes most. I rate this one right up there with HazMat, Blood Runs Cold and Bloody Bloody Bible Camp." Weber
Ditch Day Massacre is horror done right! It's exciting, with a great story, great acting, and lots of blood!... it's definitely heads, shoulders, and intestines above most others in the sub-genre. Be sure to give this one a go!," Juvinal
Currently, the film and its creators are in film festival mode. They're hopeful for an early 2015 release. The most up-to-date info can be found at the film's website: http://www.DitchDayMassacre.com.
Ditch Day Massacre Trailer: http://www.youtube.com/watch?v=b0N8eTigFAA&feature=youtu.be
Full cast and crew: http://www.imdb.com/title/tt2523426/?ref_=fn_al_tt_1
Full reviews can be viewed by the following links:
http://www.horrorsociety.com/2014/07/16/ditch-day-massacre-2014/
http://superdupershockcinema.com/2014/07/ditch-day-massacre/
http://killerbmovies.blogspot.com/2014/07/ditch-day-massacre-2013.html
http://adamthemoviegod.wordpress.com/ditch-day-massacre-review