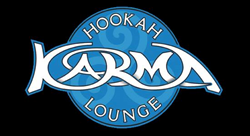 A closer, classier option to the Northwest Valley.
Las Vegas, NV (PRWEB) July 23, 2014
Karma Hookah Lounge has arrived with spirit and panache in the nightlife-starved Centennial Hills neighborhood of the Las Vegas valley. Boasting bright lights and big sounds that rival nightclubs on The Strip, Karma provides a welcome decadence in the otherwise homely area at I-215 and North Durango Drive. With the grand opening set for Friday July 25th, guests 18 and over can indulge in flavorful bowls of shisha at prices ranging from bargain to luxury.
The grand opening of the lounge will feature the debut of a live DJ and half-priced regular hookahs, in addition to the completion of the lounge's ambiance with large 3D projection screens. For an extra tasty evening, guests can treat themselves to the Karma Bowl, comprised of shisha packed into a fruit bowl, a flavored base sunk into an ice box, and ice tips for an extra cooling sensation.
Currently in its soft-opening phase, since mid-July Karma has experienced unprecedented success. "We nearly hit capacity on our third night open," says David Atwood, one of three partners who own the lounge. Karma is co-owned with Ksenia Iakoubova and Brighton Denison, who have been active in Las Vegas hospitality for the majority of their careers. The three began work on the 1,800 square-foot Karma concept in March of this year.
Karma Hookah Lounge fills the void in Centennial Hills, where there are few late-night spots for the Valley's notorious night owls. For now the lounge enjoys a monopoly on the neighborhood; the closest competition to Karma is the struggling Hookah MASTER's Lounge nearly eleven miles away. "We provide a closer, classier option to the Northwest Valley", says Iakoubova.
But what about alcohol? Not at Karma yet, but "That's part of a much bigger plan for the Karma brand," says Denison, referring to the 5,000 square feet of space just next to Karma where the lounge will expand. Though the trio is hush on details regarding the next phase of the business, they promise that it will arrive in early 2015…and it definitely will not disappoint.
Karma is located at 6435 N. Durango Drive. Hours are 4:00PM-1:00AM Sunday-Thursday and 4:00PM-3:00AM Friday-Saturday. For more information visit http://www.karmalv.com or email info(at)karmalv(dot)com.