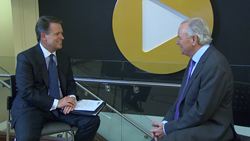 Customers don't want an online experience and a store experience... they want one experience. -Mike Jackson
Atlanta, GA (PRWEB) July 22, 2014
Jim Fitzpatrick, president of CBT News interviewed AutoNation's CEO Mike Jackson regarding several issues facing the retail automotive industry.
For the 15th consecutive quarter, AutoNation posted double digits year over year in earnings per share. Jackson discusses his company's sales success with vehicle sales up 8 percent. Other topics covered in the 20-minute interview are industry recalls and how they impact the auto business; Mary Barra, CEO of General Motors; emerging consumer trends; the possibility of seeing a woman at the helm of a public auto group; and his future with the nation's No.1 auto retailer.
Part of the interview will air on CBT News' daily newscast on Tuesday, July 22. To see the interview in its entirety, visit CBTNews.com and click on the "View from the Top" page.
About CBTNews and Car Biz Today Magazine
CBT News/Car Biz Today is an online news source dedicated to providing the retail automotive industry with news, training and event coverage through various forms of multi-media journalism. The online news source has more than 25,000 subscribers made up of new car dealers and their personnel. CBT News is home to award-winning broadcasters and is headquartered in Atlanta, Ga.
Car Biz Today Magazine originally launched as a bi-monthly publication, reaching more than 17,000 new car franchises in North America. Positive feedback from both readers and advertisers led CBTNews to move the magazine to a monthly format. As with the website and newscast, Car Biz Today Magazine provides informative, upbeat and relevant information for retail automotive executives and their personnel. Learn more at cbtnews.com.