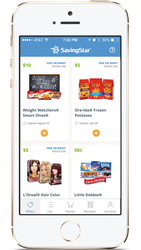 "By doubling our participating stores, shoppers can redeem great offers at the stores they like to shop without the hassle of clipping, printing, or remembering to bring paper coupons to the store," said David Rochon, CEO, SavingStar.
Waltham, MA (PRWEB) July 24, 2014
Job Listings. Real Estate Ads. Movie Times. They've all virtually disappeared from newspapers. One section remarkably hangs on in this digital age - paper grocery coupons. But a change is in the air. Helping usher in the inevitable shift to digital deals, SavingStar announced that shoppers can now save money on their groceries by redeeming offers at over 58,000 supermarkets, mass merchants, dollar stores, and drug stores nationwide - with nothing to clip or print. The grocery rewards service, available at SavingStar.com and on iPhone/Android apps, has added Walmart, Target, Walgreens, Kmart, Family Dollar, Dollar General, WinCo Foods, and Meijer to its network of stores where shoppers can claim grocery offers from their favorite brands without the hassle of using paper coupons.
Since its launch in 2011, SavingStar has provided cash back automatically when shoppers select grocery offers and scan their store loyalty cards at over 100 supermarket and drugstore chains nationwide including Stop & Shop, Giant, CVS, Winn-Dixie, and more. With the addition of the new stores, shoppers are rewarded when they buy participating products and take a picture of their receipt using SavingStar's iPhone or Android app. Kmart shoppers will automatically receive cash back after using their Kmart Shop Your Way Rewards number at checkout.
"We're excited that our 5 million members will be able to save at more of their favorite stores through SavingStar," said David Rochon, SavingStar's co-founder and CEO. "Our goal is to provide the easiest way for families to save money on their everyday purchases. By doubling our participating stores, shoppers can redeem great offers at the stores they like to shop without the hassle of clipping, printing, or remembering to bring paper coupons to the store. In this day and age, shoppers want and expect a digital solution for saving money."
How To Save On Groceries With SavingStar
SavingStar members select offers available from brands like Heinz, L'Oreal, Bush's Beans, Little Debbie, and more. When they use their store loyalty card or take a picture of their receipt from participating stores, members earn money in their SavingStar accounts. They can cash out to their bank or PayPal account, receive a gift card, or donate to the charity American Forests (to plant trees to help replace the 1 million trees destroyed each month to print paper coupons).
Exclusive New Offers
SavingSar has also introduced exclusive new offers for its members. With the Healthy Offer of the Week, members can save 20% on fresh produce like bananas, apples, tomatoes, and more. Members can also get a Friday Freebie for 100% cash back every Friday-Sunday on products such as pasta, candy bars, tuna fish, toilet paper, baking soda, and more.
"Sometimes people have a misconception that coupons are only for unhealthy products or items they don't buy. That's simply not true," said Michael Libenson, SavingStar's co-founder and President. "With our Healthy Offer of the Week, shoppers can save on fresh fruits and vegetables, in addition to savings we offer on cereal, yogurt, pretzels, and more."
SavingStar is also the only service offering large rewards - up to $10 cash back - for buying multiple items over an 8-12 week period at any participating store. For example, "Get $10.00 back when you spend $40.00 on Smart Ones®" and "Save $5 when you spend $20 on any GOYA® food products."
Last year, SavingStar introduced another way for members to save money on everyday purchases. Through its Cash Back Mall, members can earn rewards while shopping online at over 800 popular websites.
About SavingStar
SavingStar is the smart and simple way to save. Shoppers earn cash back at the grocery store with offers linked to their supermarket and drugstore loyalty cards or validated when they take a picture of their receipt. The service is known for its Healthy Offer of the Week, Friday Freebies, and One or Many high value rewards. Shoppers also earn cash back on their online purchases for clothes, travel, flowers, and more at over 800 retailers in SavingStar's Cash Back Mall. SavingStar automatically adds the value of each offer redeemed into users' SavingStar accounts, enabling them to pick their payout from cash back to gift cards to charity donations. SavingStar also powers white-labeled grocery savings services, including Upromise, Fuel Rewards Network, and NutriSavings. SavingStar is backed by DCM, Flybridge Capital Partners, First Round Capital, IA Ventures, Edenred, American Express Ventures, and other investors. The company is based in Waltham, MA. For more information, visit https://www.savingstar.com.