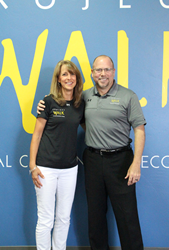 When we walked into Project Walk we felt it immediately. Victoria looked at me and said, 'mum, you just found your calling' and I knew it to be true.
Boston, MA (PRWEB) July 22, 2014
Project Walk Paralysis Recovery Centers is excited to bring their world-renowned activity-based recovery services to the New England area. This will be the first franchised location to open its doors on the East Coast.
"We have always known that a Project Walk presence on the East Coast could be really powerful," says Tim Yates, Project Walk CEO. "When the 'Arlen' family approached us about purchasing a Project Walk franchise, we felt honored to be joining forces with a family who is truly passionate about the brand."
The Boston franchise is owned by Jacqueline and Larry Arlen who first experienced Project Walk when their daughter, paralympian swimmer Victoria, spent a few weeks at the San Diego location. Victoria lives with Transverse Myelitis, a debilitating disease that causes injury to the spinal cord. When Jacqueline and Larry witnessed a change in Victoria, they felt moved to bring the experience to their hometown.
Jacqueline says, "I saw a spark of hope in Victoria's eyes that I hadn't seen in a really long time. It was that spark of hope that changed everything for us."
Project Walk is the pioneer in activity-based recovery with nearly two decades of experience. It's the Project Walk mission to provide an improved quality of life for people affected by mobility related disorders. Based on The Dardzinski Method, Project Walk has established itself as a global leader in activity-based recovery through its unique approach to improving function below the level of injury.
"I have always known I have so much more to give," says Project Walk Boston franchise owner, Jacqueline. "When we walked into Project Walk we felt it immediately. Victoria looked at me and said, 'mum, you just found your calling' and I knew it to be true."
Project Walk – Boston is now accepting applications which can be filled out at ProjectWalk.com