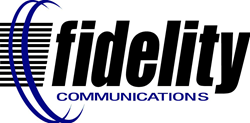 Sullivan, MO (PRWEB) July 23, 2014
Fidelity Communications recently hired three new General Managers as part of its continued growth into new markets in Arkansas, Texas and Louisiana. Fidelity also serves various markets in Missouri and Oklahoma.
Don Knight is now heading up the Missouri systems, Darrick Collier the larger Arkansas systems, and Kip McVey the Texas and Louisiana systems.
"As we continue to grow into new areas and provide new technologies and services, it's important to have a dedicated manager in each state. These new managers are solely committed to making sure we are taking great care of our customers and provide the highest level of customer support," said Executive General Manager Andy Davis. "We're excited to welcome these new managers to the Fidelity family."
Don Knight, a lifelong resident of the Sullivan, MO area, has been promoted to Missouri General Manager.
Don joined Fidelity Communications in 1999 as Long Distance Product Manager and managed Fidelity's long distance phone service launch in the original Fidelity markets of Sullivan, Gerald, New Haven and Owensville, MO. Prior to becoming General Manager, Don most recently held the position of Senior Product Manager of Broadband and Telecom Services.
In his new role, Don will be responsible for the original Fidelity markets plus Rolla, Lebanon, Salem, Nevada, El Dorado Springs, Harrisonville, Thayer and West Plains, MO; and Hardy, AR.
Darrick Collier has been hired as the new Arkansas General Manager. He is responsible for Fidelity's Little Rock and Beebe, AR markets. Prior to joining the Fidelity team, Darrick spent five years in the U.S. Air Force, advancing to Branch Chief at Scott Air Force Base. He also held the position of Deputy Operations Manager at NGA (National Geospacial-Intelligence Agency) in St. Louis where he maintained top secret/SCI clearance.
Kip McVey has been hired as the new Texas/Louisiana General Manager. He is responsible for all Fidelity systems in those states, including Marshall, Atlanta and Carthage, TX; and New Roads, LA. Kip has over 13 years' experience in the cable industry, most recently at Custom Cable Services Inc. as Vice President of Installation Services. Prior to that, he was Director of Marketing and Business Development at Mill-Tell Inc. where he managed a team of 34 employees.