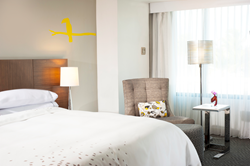 We are tremendously excited to announce this renovation, which has been a culmination of many years of careful planning to ensure our guests' ultimate satisfaction.
(PRWEB) August 05, 2014
Renaissance Jaragua Santo Domingo Hotel has begun a one year, $30 million renovation of its historical iconic hotel. In addition to giving all of the 300 guest rooms of the Santo Domingo hotel a completely new interior that incorporates a fresh color schedule and modern furnishings, the one year restoration plans will also include all new meeting and event space, restaurants, guest common spaces and lobby.
"We are tremendously excited to announce this renovation, which has been the culmination of many years of careful planning to ensure our guests' ultimate satisfaction," said Eduardo Reple, General Manager of the Renaissance Jaragua Santo Domingo Hotel. "To ensure our guests are not disrupted during their stay, our hotel will be closed for a full year, reopening in April 2015."
The design of the renovation, which will touch every aspect of the hotel, was inspired by both Santo Domingo's tropical location and the sleek simplicity of modern design. Together, they create an atmosphere that feels exotic and sophisticated - jungle-inspired, yet classic and cool.
The renovated guest rooms will be designed to convey the feeling of a modern oasis. Sleek silvers, rich honey-colored woods, exotic yellows, and sophisticated patterns are tastefully combined in the bedrooms and bathrooms. All guest rooms will also feature state-of-the-art LCD TVs, luxurious bedding, and new workspaces for Santo Domingo's lifestyle business traveler.
The Renaissance Santo Domingo Jaragua Hotel and Casino renovations will also feature a new ballroom, restaurants, and meeting spaces. The meeting spaces and ballroom will have a unique feel, with a "fountains of light" design - a focus on colorful lighting paired with simplistic nudes and silvers - as the focal point of the new rooms.
The restoration will require the hotel to be closed until April, 2015. Upon its reopening, the renovated Renaissance Jaragua Hotel will recapture its spirit that it has been known for in Santo Domingo for the past 73 years. During its renovation, Santo Domingo guests can visit the JW Marriott Santo Domingo and the Courtyard by Marriott Santo Domingo.
Renaissance Jaragua Santo Domingo has been an historic icon in Santo Domingo's history since its opening in 1942. The Santo Domingo Hotel features 300 guest rooms, one restaurant, spa, health club, casino, and the largest meeting and event space in Santo Domingo. The Renaissance Jaragua hotel is located directly on the famous Malecon along the picturesque Santo Domingo coastline. For more information on the renovation, please visit http://www.jaraguasantodomingohotel.com/.
ABOUT RENAISSANCE
Renaissance Hotels represents a diverse collection of more than 150 hotels in 35 countries worldwide. Each property is unique, offering passionate travelers a one-of-kind experience and memories they will be sure to take with them long after they depart. Within every hotel, guests are greeted by an exceptional array of amenities and an inspiring world of local discoveries. For travelers looking to experience something new, innovative and locally driven programs including the industry leading entertainment platform RLife LIVE as well R Navigator, ensure that every trip is transformed into an eye-opening, unforgettable journey. Renaissance Hotels. Live Life To Discover. To discover more visit http://www.renhotels.com.