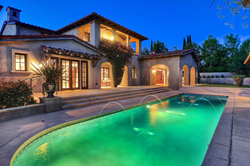 64 Boulder View is the ultimate in Luxury and is designed by a prominent Feng shui master. This custom home features its own movie theater, 10 Car garage, and in-house elevator. Artfully crafted and fabulous attention to detail.
Irvine, CA (PRWEB) July 23, 2014
A new Luxury residential listing just launched for sale on June 25th in Shady Canyon® which is considered to be Irvine's (Irvine, CA) most exclusive community. This home is listed for sale at nearly $8.5 Million ($8,499,888) and is a wonderful Tuscan inspired estate. The property is affectionately named "Villa San Biagio" from its namesake in Tuscany. The listing is exclusively represented by the Michael Mei Real Estate Group, a luxury home specialist of Coldwell Banker Platinum Properties. This luxury home is located at 64 Boulder View and is nestled in a premium area of Shady Canyon that boasts some of the highest elevations for the area offering sweeping vistas.
Luxury homes continue to gain traction in Irvine, CA and overseas Buyers are looking for large lots, trees, and greenery which is not typically found in mega-cities like Beijing, China or Seoul, Korea. These upscale Buyers want specific amenities such as an expanded garage to accommodate a car collection, a wine cellar, a movie theater, and Feng shui perfection. "I feel blessed to bring such an amazing property to market and strengthen the Luxury home segment for Irvine," said Michael Mei of Coldwell Banker Platinum Properties. "Villa San Biagio in Shady Canyon is truly a custom home which took three (3) years to build from the ground up. Award winning designers, a Feng shui master, and an exclusive home builder artfully crafted 64 Boulder View with fabulous attention to detail. This custom home features its own movie theater, a ten (10) car garage, a temperature controlled wine cellar, and even an in-house elevator to navigate between the three floors. We gave a lot of thought into the marketing plan for Villa San Biagio to highlight its Tuscan roots, and we are showcasing its flowing form and function. As a result, we are creating an emotional connection between the Buyer and the home. We've highlighted the home's Old World Tuscan charm and accentuated the flow of the home which we believe expresses how families want to live. http://www.youtube.com/watch?v=TuwtNYX0unw
Even though new communities are building larger homes in the 7,000+ sqft range such as Irvine's newest community of Orchard Hills, these new builds do not reach the size and depth of the custom homes in Shady Canyon which typically range 6,000 to 20,000 sqft of living space. There is definitely a new trend in Luxury homes to accommodate multi-generational living, and larger living spaces are becoming more commonplace. Additionally, the trend of luxury listings is to offer more exclusivity such as a 24 Hour guard gated community, large lots, modern amenities, and meticulous attention to detail like the high-end listing of 64 Boulder View in Shady Canyon. http://www.64BoulderView.com
About
IrvineHomeSale.com is an independent website focusing on the trends of the Irvine Real Estate market and provides reviews of the most recent model homes offered by the new communities of Irvine. Shady Canyon® is one of Orange County's most impressive residential communities with over 16,000 acres of natural surroundings. Shady Canyon has some of the most unique and breath taking custom homes that promote stunning architectural designs and luxurious landscapes. This exclusive community only offers 400 zoned home sites with an average home site lot at just over 27,000 sqft and topping out at 130,000 sqft. Michael Mei is a luxury specialist Realtor with Coldwell Banker Platinum Properties and concentrates on the Luxury segment of the Shady Canyon, Lambert Ranch, and Orchard Hills villages of Irvine, CA. Michael Mei has been named a Premier Agent on Zillow.com and is the founder of the local publication "The Real Estate Advisor."