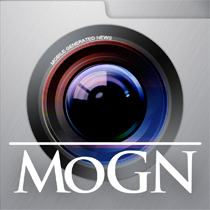 Cardiff by the Sea, CA (PRWEB) July 23, 2014
Mobile Generated News® (MoGN), a Crowd Sourcing Platform to share Video and Still Images of News Events, announces an exciting new "UNI App" for college students.
The new MoGN "UNI App", custom branded with the school's logo, has many benefits for Universities and will enable interaction between faculty and students in new and exciting ways. It will be used by students, faculty and administrators to upload videos and photos of events and happenings on campus. Students can post clips from their dorm rooms, share their achievements, and record profiles. Faculty and administrators can use the App to reach out to students with announcements, information or assignments. This User-Generated Content will enable Universities to stay connected and up to date with the latest news in an easier and faster way than the methods currently in place in student-run newspapers and newscasts.
Debuting this fall to Universities across the county, the MoGN "UNI App" will help to engage students, faculty and administrators and create a sense of community on campus. The App acts as a teaching tool inside the classroom and newsroom as well as in the theater and on the sports fields.
Search for Mobile Generated News in the Apple App Store. You will find all of the related affiliate Apps: Mobile Generated News App for Nationwide coverage; Entravision-Mobile Generated News App, and Serestar Telemundo-33 Mobile Generated News App. The Univision-Mobile Generated News App will appear soon.
Content submitted by Citizen Journalists will be seen on the Entravision-Mobile Generated News® Network of Broadcast Stations in Albuquerque, Boston, Denver, Corpus Christi, El Paso, Hartford, Laredo, Las Vegas, Monterey/Salinas, Odessa/Midland, Orlando, Palm Springs, Reno, San Diego, Santa Barbara, Tampa, Valle del Rio Grande, Washington, DC and Yuma/El Centro.
The Serestar-Mobile Generated News® Broadcast station covers the Sacramento, Stockton and Modesto market.
Univision Owned & Operated TV stations in top markets will debut the Univision-Mobile Generated News App in New York, Los Angeles, Chicago, Philadelphia, Dallas, San Francisco, Phoenix, Houston, Miami, Raleigh, San Antonio, Austin, Fresno and San Juan, Puerto Rico.
Multimedia Graphic Network Inc., is a preeminent media company creating and distributing Graphical News services and products to over 750 affiliates in the Media and Education Industries. MGN Online's (http://www.mgnonline.com) full service solutions provide Still and Animated News Graphics serving the News and Information Industry. One of the new enabling tools from MGN is Mobile Generated News®. This Mobile App empowers the Next Generation of News consumers encouraging local Mobile users in a community to interact directly with the local News Media. This Social Media interaction with local News organizations is what the Media Industry has discovered must be done to capture this NEXT Generation as part of their future audience. Multimedia Graphic Network Inc., was founded in 1982 and has grown from solely a News Graphic Content Provider, to a Content Provider and Enabler for Global News Products and Services. Multimedia Graphic Network Inc.is based in Cardiff by the Sea, California.