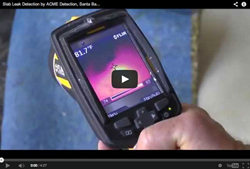 'Breaking into a slab without expert confirmation of a leak location is not a good idea,' says expert Gary Fuller.
Santa Barbara, CA (PRWEB) July 26, 2014
Gary Fuller, a Santa Barbara leak detection expert, released a video this month showing the latests high-tech methods used by today's plumbers and contractors to find menacing leaks in and around slabs and foundations: https://www.youtube.com/watch?v=U3hdoRrnqw0.
Breaking into a slab without expert confirmation of a leak location is not a good idea, Fuller warns. There is no need to destroy your foundation just to search for leaks, he says. Finding a slab leak requires a thorough process with technical expertise.
Finding slab leaks non-destructively means using modern tools like electronic amplification equipment and electromagnetic pipeline locators. With the proper equipment, leaks can be found and repaired with minimal disruption to property. Fuller's slab leak detection technicians use non-invasive equipment to accurately locate the leak to save time, money and avoid unnecessary property damage.
Gary Fuller explains the steps of how to find a slab leak:
Step 1.
"Using a FLIR camera we start by looking for thermal anomalies under the concrete slab. FLIR stands for forward looking infrared. When pointed at the slab and the camera produces a video image based on temperature instead of light used in a normal camera."
"In this video we are looking at a hot water leak with presents itself as orange colors and a cold water leak would be cooler temperatures presented as blue-colors," he says.
Step 2.
Pipe locating. "When you're looking for a slab leak you want to find the pipes first, this gives you a better idea of where to look. In this video we're using a Radio Detection RDL7000 pipe locator and a TX-3 signal generator," Fuller says. He uses a frequency of 512 Hz.
Step 3
Listen for the leak. "Our preferred microphone set up is the LD18, LD-18 by Sub Surface. This microphone has some very sophisticated filters and noise canceling abilities for working in noisy environments. These come in very handy because you can easily hear the neighbors dog barking or stereos being played when you're trying to find a leak with a sensitive microphone. We also use a Vivax Metrotech HL 5000. This also has H2 tracer gas mode (w/optional PAM-H2). These Acoustical Leak Detection systems are the current state of the art professional dual segment analysis (DSA) leak detection instruments."
Step 4.
Inject air into the system for a precise PenPoint of the location. "For this we usually use a dive tank and inject air into the system at very low pressures," he says. As the air exits the pipe through the hole it produces a loud bubbling noise which makes it easier to dial in on the exact location of the leak.
For emergency response, Acme Detection of Santa Barbara is available every day of the week. Fuller can be reached at (805) 565-5324, that's (805) 565-LEAK.