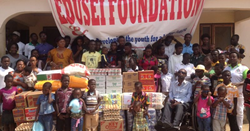 (PRWEB) July 22, 2014
The donation from the Edusei Foundation was greatly appreciated by the staff and children of the facility. In a feat of strategic engineering, such assistance tends to etch good memories of family and succor in the minds of the beneficiaries. It provided a sense of family to them, which the Edusei Foundation was proud to give.
The Edusei Foundation donated various amounts of; milk, soap, frytol, sugar, malt milk, mackerel, eggs, diapers, drinks, and indomie.
The Government of Ghana established the Kumasi Children's Home in 1965 to provide care and protection to children in need, in and around the Ashanti Region. It was projected that well brought up children would subsequently be adopted by people on the other side of the Atlantic. Unfortunately, adoption is not vigorously practiced in Ghana. The children end up staying longer than anticipated, which strains the budgetary allocation from the central government. Lack of funding deprives the home of adequate financial resources for daily maintenance needs and psychosocial support, which are vital ingredients for successful youth development.
Founded by Dr. Kwame Bawuah-Edusei, the mission of the Edusei foundation is to facilitate youth development in the United States, Ghana and the Diaspora in a positive manner to improve their knowledge, behavior and health. Moreover, the Edusei Foundation collaborates with other non-governmental organizations to empower women and children. Using learning centers, workshops, and seminars to improve academic excellence in the sciences, arts, and finance the Edusei Foundation is able to stimulate the minds of all whom attend. The foundation also works with women and children to teach them gender equality and empowerment, as well as provide medical counseling and recreational opportunities to promote healthy life styles. The Edusei Foundation conducts workshops to counsel youth in career and college selection, life survival and leadership skills, and financial literacy. The Edusei Foundation believes, "We must facilitate education of youth to fortify positive cultural values and enhance job creation skills for the betterment of our world." We can all benefit from engaging, educating and empowering youth to contribute toward developing a peaceful, healthy, united and technologically advanced world.