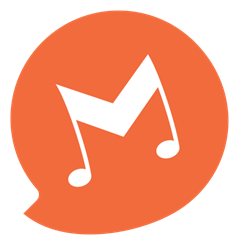 London, United Kingdom (PRWEB UK) 23 July 2014
The eagerly anticipated public launch of music and social media app Musations took off with a roar. Making its debut on July 9th, Musations quickly reached the position of the 3rd most downloaded free app in the US and the 5th in the UK on the Apple iTunes store's music list. This surge included, incredibly, over 100,000 downloads of the app over three days with users jumping into making thousands and thousands of music clips immediately. This instant success has put other companies in the booming music and social media marketplace, like Shazam and Soundcloud, on notice. Musations is on the scene, and their fast, fun and creative combination of music and messaging is being embraced near and far.
"It's been an exciting week, seeing people around the world embracing the Musations platform," remarked co-founder Tony Fennell. "Music transcends all divides. Songs and lyrics move us in so many ways, quite unlike anything else in the world. Fitting every mood and occasion, saying what an email can't. That's the power of Musations and a key reason why we're seeing such success so quickly. And this is just the beginning!"
According to the company, using Musations is as simple as it is fun. After downloading the free Musations app from the iTunes store the user just types the title of a song or a piece of lyrics into the app and Musations completes a search in seconds. Both the users iTunes library and, incredibly, the company's 37 million song database is scanned and matches listed. After the desired choice is selected, snipping the clip takes a second and it's ready to drop into a message.
The clips can be up to 30 seconds long and they are absolutely free to send, from an iTunes library or the iTunes store.
The response from users has been wildly enthusiastic.
Jamal Edwards, the 23 year entrepreneur and founder of the acclaimed SBTV channel, recently commented, "Musations is the most addictive app I've played with in a while. I think it has the potential to really revolutionise music promotion. Now artists can promote their music without giving too much away."
The Musations team promises new features on the app will be coming soon.
The app is available as a free download for Apple® iOS devices today.
For more information visit the Musations website at http://www.musations.com. Don't just say it, play it!