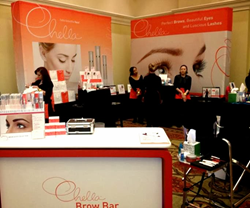 Los Angeles, CA (PRWEB) July 24, 2014
Chella Brow & Eye Collection will be opening The Republic of Beauty in Chile, with 5 Chella Brow Bars launching July 28th – August 3rd. Two Chella Make-up Artists will be onsite to help with training in the morning and an event in the evening for customers. This is just the beginning of Chella's plans to expand its Brow Bar presence into a total of 24 Republic of Beauty locations.
The Chella Brow Bar offers several services with Chella Brow Specialists to explain key tips on eyebrow maintenance. Brow Specialists can provide any treatment from Brow Touch-ups to Brow Make-Overs. Brow Tinting, Full Facial Waxing and Lash Application, as well as a variety of other Chella services, are available ranging from $8 - $43.
ABOUT CHELLA
Founded in 2003 by Chris Kolodziejski, CHELLA is the revolutionary beauty brand that distills the very latest scientific advancements into innovative and effective solutions via its Skin Care line and a Brow & Eye collection. The name CHELLA is a contradiction of Italian expression 'Ciao Bella' translated into the brand slogan 'Hello Beautiful'. Almost entirely manufactured in the United States, CHELLA currently retails from $9-$135 in over two hundred locations including leading domestic online e-commerce sites including Amazon, Bliss and Birchbox as well as international partners in England, France and Spain.http://www.chella.com