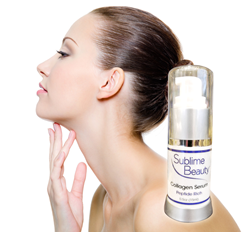 This serum, along with Retinol, is a great basic choice for most skin types to improve skin.
St. Petersburg, FL (PRWEB) July 22, 2014
Summer skin care should include the use of serums to replenish and nourish skin. The Collagen Peptide Serum is just such a product.
"This wonderful serum should be included in most skincare routines," says Kathy Heshelow, founder of Sublime Beauty®. "It is light, absorbs well, moisturizes and includes the important peptide Matrixyl to boost collagen levels."
The serum is both pre-emptive for women in their thirties, and proactive for older women.
Studies on Matrixyl done in the U.K. show it can actually double collagen levels, and this is important because production slows each year. Without sufficient collagen, skin wrinkles, sags and thins.
The Collagen Serum is on sale (10% off) at Amazon now.
ABOUT: Sublime Beauty® is a quality skincare company that focuses on products to "Age Younger". Products help to boost collagen, hydrate, relax wrinkles and improve skin. A niche includes healthy Skin Brushes. The company webstore offers free standard shipping and a VIP Club. Sign up for Secret Sales on the site. Products also available on Amazon