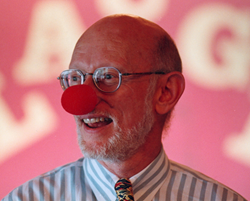 'Words to live by are just words, unless you actually live by them. Take these words and love them—take these words and LIVE them!' —BJ Gallagher, It's Never Too Late to be What You Might Have Been
(PRWEB) July 22, 2014
Allen Klein's compendium of uplifting happiness quotes, The Art of Living Joyfully: How to Be Happier Every Day of the Year, was featured in an inspirational Beliefnet article. Beliefnet said, "The Art of Living Joyfully offers insight and inspiration to help you and those you care about feel good about themselves and life."
Inspiring quotes from the piece included:
"The next time you feel real joy, stop and think. Pay attention."
—Steve Chandler
"Joy increases as you give it, and diminishes as you try to keep it for yourself."
—Norman Vincent Peale
What People Are Saying about The Art of Living Joyfully (also in audio):
"Allen Klein has done it again. In The Art of Living Joyfully he gives us the common sense advice that nourishes joy in all areas of our life. If you are hungry for more joy in you life, then this is a must have book. Open it to any page and all good cheer to embrace you from the inside out."
—Susyn Reeve, author of The Inspired Life
"Words to live by are just words, unless you actually live by them. Take these words and love them—take these words and LIVE them!"
—BJ Gallagher, It's Never Too Late to be What You Might Have Been
Open this book and discover wonderful words to live by, laugh by and love by. In this era of tweeting, endless email and obtuse texting, Jollytologist® Allen Klein simply offers sage advice that will soothe the heart and lift the spirits. Organized to answer life's big questions, Klein's collection illustrates the power of positive thinking cultivating a sense of humor. Infinite improvements in mind and mood are just a turn of the page away!