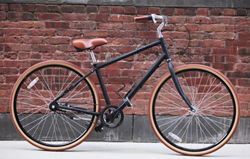 "It's a dream come true to see so many people supporting my longtime concept of offering bicycles that rival the quality of higher end bikes, yet are accessible to a broader demographic from both a price and ease-of-use perspective."
New York, NY (PRWEB) July 22, 2014
There are more than 50 million bicycle riders in America. Priority Bicycles, a new brand that launched on Kickstarter last week, is focusing its efforts on the other 200 million-plus citizens of riding age who don't own a bike, are new to cycling or ride for recreation and transportation. Priority's concept of providing a high quality, low-priced, attractively designed, and virtually maintenance-free alternative seems to be resonating. The company surpassed its $30,000 Kickstarter funding goal in 2.5 hours, exceeded $200,000 in under 24 hours and is gaining momentum after reaching the $300,000 mark, 10 times its original goal, in 5 days.
"It's a dream come true to see so many people supporting my longtime concept of offering bicycles that rival the quality of higher end bikes, yet are accessible to a broader demographic from both a price and ease-of-use perspective," said Dave Weiner, founder of New York City-based Priority Bicycles. "Until now, recreational cyclists have been limited to performance bikes that are extremely expensive or lower-end bikes that are heavy, both of which require too much maintenance. We really hope our backers continue to spread the word about this new bicycle option for recreational cyclists".
Priority's concept of high quality, low priced, attractively designed, and maintenance-free bicycles have resonated with consumers. Selling almost 800 bicycles in five days via Kickstarter, customers have responded by voicing strong support of the "maintenance-free" engineering of Priority's bikes, which come in diamond frame and step-through models.
Priority's features include a lightweight and rust-free aluminum frame, chain-less, greaseless belt drive, and an internal three-speed hub. The bikes are designed for easy assembly that require no technical knowledge, and also ship with a tire pump, kickstand, and water bottle cage.
Priority is now setting its sights on $450,000 in funding, and if that goal is reached they will include a smart phone mount designed by Delta Cycle and retailing for $29.99 - on all bikes at no additional cost. Delta Cycle also supplies the C-Drive belt drivetrain used on Priority Bicycles.
"We're trying to deliver Happiness in Motion by blending beauty and functionality at an affordable price," said Weiner. "We want people to enjoy their ride and not have to worry about routine bike maintenance, which is why we meticulously designed every component for easy assembly, comfort, and as little maintenance as possible."
Additional information and pre-order details are available on Priority Bicycle's Kickstarter page. Bicycles are currently selling on Kickstarter at the discounted price of $374, with bicycles available for purchase thereafter on PriorityBicycles.com for $399. All bicycles will be shipped to Kickstarter backers at no cost, and are expected to arrive by January with a pre-holiday target date.
###
Media: visit the Priority Bicycles Press Page for high resolution images and more details.
Contact:
Ryan Hayter, 360-981-2929, ryan@haytepr.com
Kate Gaeir, 206-334-0863, kate@hayterpr.com